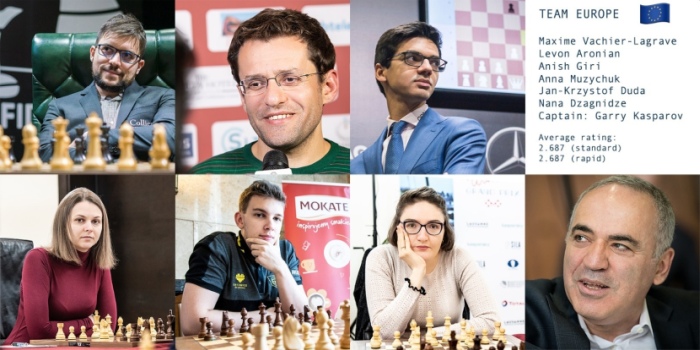 Team Europe for the FIDE Chess.com Online Nations Cup is confirmed:
Captain: Garry Kasparov
The 13th World Champion, Garry Kasparov is considered by many to be the greatest player of all time. During his career, Kasparov was ranked #1 for 255 months. His highest rating of 2851(achieved in 1999) was surpassed only by Magnus Carlsen in 2013. He also holds the record for the consecutive tournament victories and number of Chess Oscars.
Maxim Vachier-Lagrave (France Std. 2778 Rpd. 2860)
The highest-rated French player, the five-time winner of the Biel Grandmaster Tournament and one of the leaders of the Candidates Tournament 2020, Maxime Vachier-Lagrave is currently ranked #5 in the world. He reached his peak rating (2819) in August 2016.
Levon Aronian (Armenia Std. 2773 Rpd. 2778)
The fourth highest-ranked player in the history of chess, a true celebrity in Armenia, Levon Aronian won FIDE World Cup in 2005 and 2017. Levon led the national team to the gold medals in three Olympiads in 2006, 2008, and 2012. Aronian is currently ranked #7 in the world.
Anish Giri (Netherlands Std. 2764 Rpd. 2731)
A four-time Dutch champion, the winner of several prestigious tournaments Anish Kumar Giri is currently ranked #10 in the world. He reached his peak rating (2798) in January 2016. Fluent in Russian, English, and Dutch, Giri has qualified for the Candidates Tournament twice (2016 and 2020).
Anna Muzychuk (Ukraine Std. 2535 Rpd. 2533)
The winner of Women's World Rapid Chess Championship (2016) and the Women's World Blitz Chess Championship (2014 and 2016) Anna Muzychuk became the fourth woman to cross a 2600 rating mark in classical chess. The participant of the FIDE Women's Grand Prix, she is currently ranked #7 in the world.
Jan-Krzysztof Duda (Poland Std. 2753 Rpd. 2774)
One of the most promising and talented young players Jan-Krzysztof Duda is already ranked #16 in the world. He achieved the title of Grandmaster at the age of 15. The winner of the Polish championship (2018), last November Duda reached the final in the FIDE Grand Prix (Hamburg 2019) facing a very strong competition.
Nana Dzagnidze (Georgia Std. 2524 Rpd. 2447)
A member of the gold medal-winning Georgia team at the Women's Olympiad (2008) and the winner of the Women's Blitz Championship (2017) Nana Dzagnidze currently occupies 8th position in the women's rating list. This March the mother of two reached a milestone in her career after winning FIDE Women's Grand Prix Lausanne.
The Online Nations Cup is a team competition that will be held on May 5-10 with teams Russia, USA, Europe, China, India & the Rest of the World taking part.