China continues to lead the FIDE Chess.com Online Nations Cup with four regular rounds to go. It's Europe that's having the best chances to join them in Sunday's Superfinal. Team USA defeated and leapfrogged Russia in the standings, while India and the Rest of the World are out of contention by this point.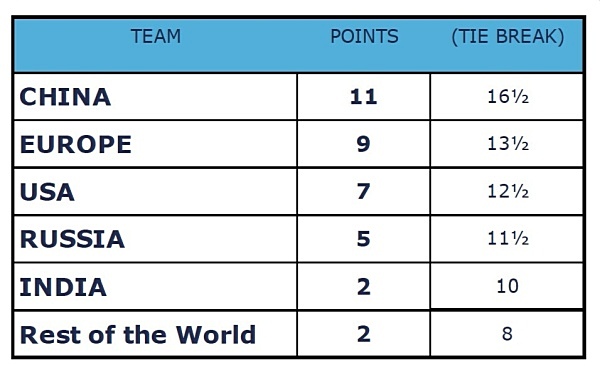 Round 05

The round started with a stunning victory for Viswanathan Anand against Ian Nepomniachtchi, a game that was over in about five(!) minutes. Nepo got caught in preparation, and was already lost by move 14!
In his post-game interview in the live broadcast, Anand said that 12.Nf3 (which seems mostly a tricky move order) was one of several ideas his second GM Grzegorz Gajewski had recently shared with him, adding that his former second, GM Radek Wojtaszek, told him that everything was already in their files 10 years ago!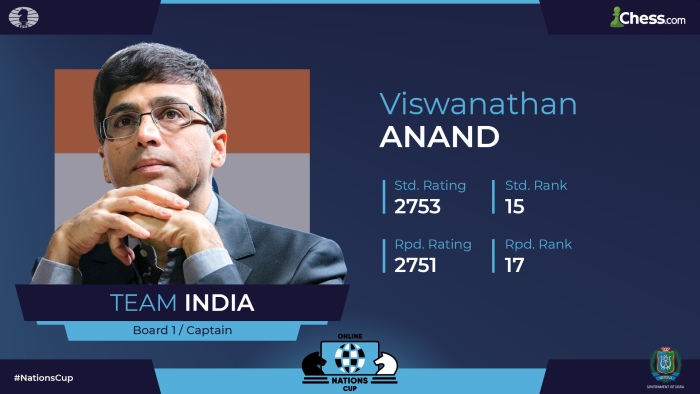 This shockingly quick win eventually did not bring India's first victory in the tournament as Pentala Harikrishna suffered a painful loss against Vladislav Artemiev due to a mouse slip in a roughly equal position.

China continued on their winning path with another victory in round five against the U.S. despite Fabiano Caruana's scoring his third win in as many games. It seemed Wang Hao brought the pain over himself in a closed position with the unnecessary 39.h5 which had a tactical flaw.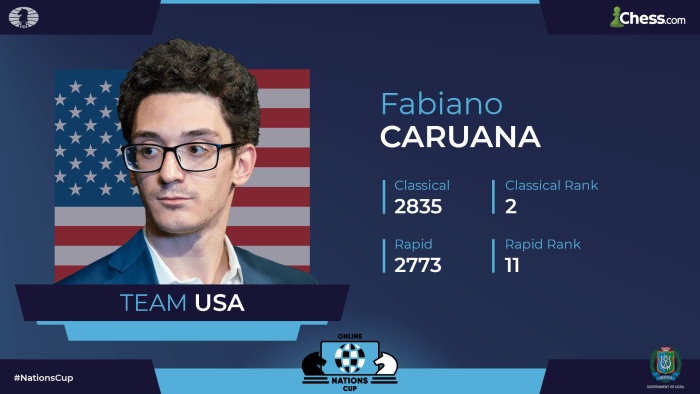 The #1 in women's rating Hou Yifan doesn't seem to be suffering much from her inactivity in recent years as she is playing powerful games so far in the Nations Cup. It must be said that her win against Irina Krush was based on one big miscalculation but after that Hou was merciless.

Europe played itself to a second-place behind China halfway the round-robin phase thanks to a hard-fought victory over the Rest of the World. Levon Aronian scored his third win in a row this time over Alireza Firouzja in a basic but complicated rook ending in which both opponents were not precise. First, the Armenian GM untimely gave up his h-pawn then the Iran-born youngster was last to err in an equal position. Amin Bassem leveled the score by defeating Anish Giri, but Nana Dzagnidze again demonstrated her excellent endgame technique in the encounter with Dinara Saduakassova.
Round 06

This is not Nepomniachtchi's tournament. The Russian top GM ended up losing his second game as well, although in a very different way. This time he was the last one playing, against GM Maxime Vachier-Lagrave. Ian lost the thread in complications but finding himself in a hopeless position he gradually dug out of the hole. The draw seemed imminent when he blundered on move 91 to end a terrible day at the office.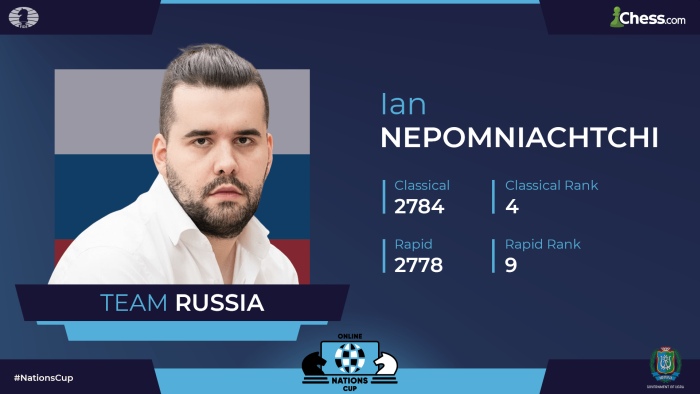 China bulldozed over the Rest of the World with a 3.5-0.5 win, further cementing their status as favorites to win the event. You might expect fireworks in a game between young guns Wei Yi and Alireza Firouzja, but in this case, the Chinese player won a beautiful, technical endgame that Anatoly Karpov would have been proud of.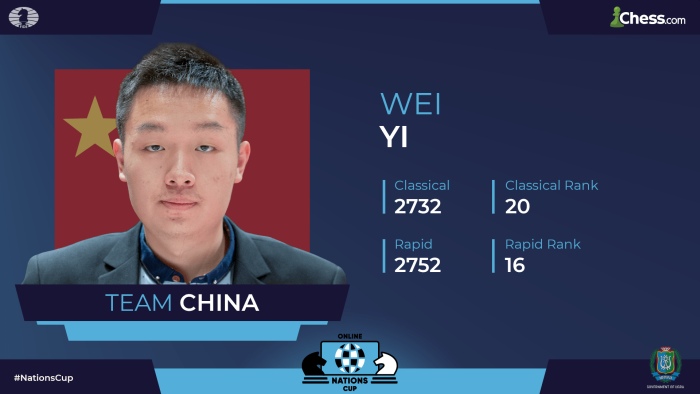 Even after six rounds, India is still waiting for its first win as they went down against the USA in their second match of the day. It was GM Wesley So who opened the score with a crushing win against GM Baskaran Adhiban that included the threat of a pretty combination. Unluckily for chess aesеts, the Indian GM chose a more prosaic way to lose the game.
Another key game was the board-one encounter between Nakamura and Anand. With 2-1 on the scoreboard, Hikaru had to save the draw to secure two match points. After a few inaccuracies, he was completely outplayed on the kingside earlier in the game and was material down, but his fighting spirit coupled with a couple of rush moves by the Indian eventually saved the day for the US.
The tournament will be broadcast live across multiple outlets including FIDE's and Chess.com's own channels across Twitch, YouTube, Mixer, Twitter, and other international streaming platforms. With an estimated audience of several million worldwide, commentary by chess experts will be conducted in multiple languages, including English, Spanish, Russian, Mandarin, French, German, Portuguese, Italian, Turkish, and Polish. You can watch live broadcasts and replays on FIDE YouTube channel: https://www.youtube.com/watch?v=hmDtpw5HJEQ
Text: Peter Doggers (chess.com)
FIDE
www.fide.com
David Llada
press@fide.com
+34 623 021 120
CHESS.com
www.chess.com
Nick Barton
nick@chess.com