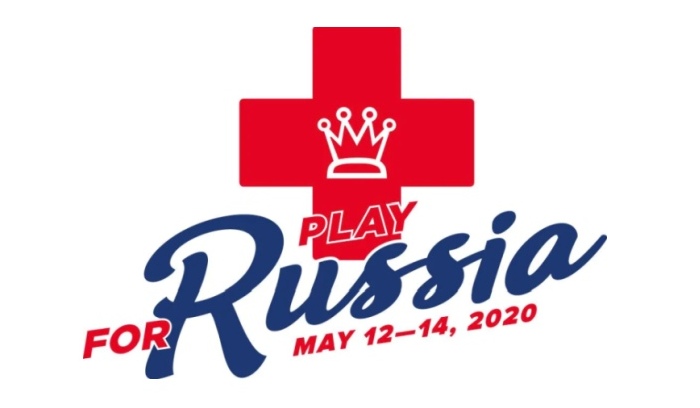 The Chess Federation of Russia and the Ministry of Sports of the Russian Federation combined efforts to support the first charity online tournament initiated by Russian chess players. The event is being played on lichess.org in a 5+2 blitz format and features the country's strongest grandmasters.
The entire prize pool ($330,000 already raised so far) will be donated to regional hospitals and health workers fighting the COVID-19 pandemic. The participants will determine the recipients of the donations beforehand, depending on the needs of a particular institution. The entire prize fund is distributed equally among the regions, regardless of the final standings. More details and how to donate can be found on the Russian Chess Federation's website (EN).
The first day of the Play for Russia charity event left chess fans spoilt for choice, with firework matches like Grischuk vs Riazantsev, to classic match-ups like Kramnik vs Svidler.
Alexander Grischuk, the three-time World Blitz Champion, was undefeated on day 1, with wins against Riazantsev, Svidler, Karjakin, and Kramnik - and draws against the rest of the field. Such a commanding performance gave Grischuk the lead on the first day, with 5.5/7.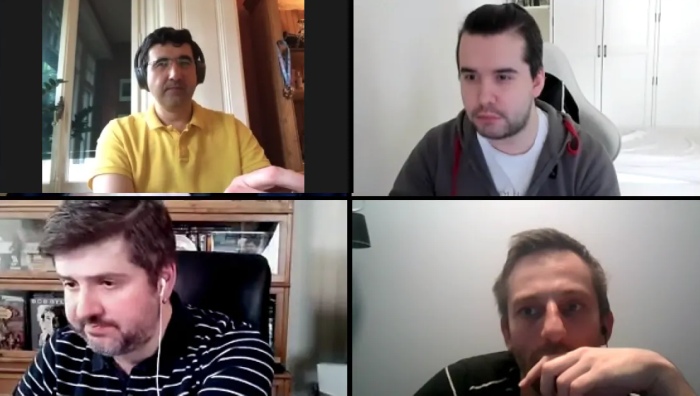 Despite retiring from professional chess in 2019, Vladimir Kramnik, the three-time World Champion, was hot on Grischuk's heels, with four wins (including victories against podium-placer Tomashevsky, and one of the favorites, Ian Nepomniachtchi) and two draws. Kramnik drew laughs and smiles after announcing chess is "only a hobby" for him these days - with an excellent performance of 5/7 showing the truth of "once a World Champion, always a World Champion".
Two-time Russian champion, Evgeny Tomashevsky, finished the first day on third position (4/7) with victories over Ian Nepomniachtchi and Ernesto Inarkiev and the only loss to Kramnik. Sergey Karjakin, Ian Nepomniachtchi, and Peter Svidler (3/7 each) remained in contention and even Ernesto Inarkiev and Alexander Riazantsev (scoring 2.5/7 and 2/7 respectively) still had a chance to qualify for the semifinals.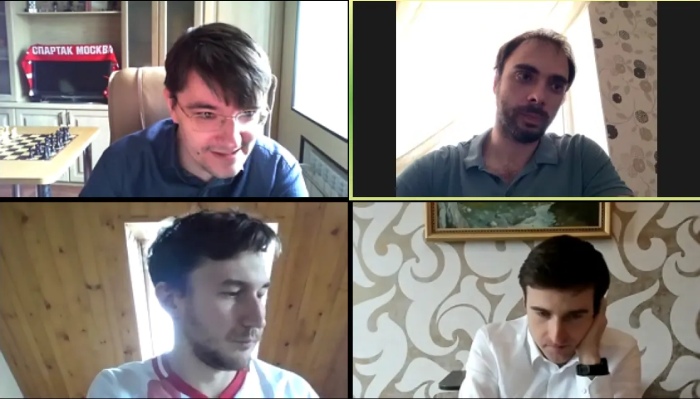 The second day of the event was even more eventful as Vladimir Kramnik overtook Alexander Grischuk to win the double round-robin overall with a dominating 10.5/14. Peter Svidler had a great second day as he scored six points in seven rounds and found himself in the second position of the final standings.
After a great start, Alexander Grischuk slowed down drastically but still made it to the next stage although in the semifinal he is up against the most dangerous opponent Vladimir Kramnik. Evgeny Tomashevsky turned in an equally solid performance as on the first day and edged ahead of Grischuk thanks to better Sonneborn-Berger.
Today, the four best performers from the double round-robin will play semi-finals and finals to determine Play for Russia Champion.
Just like on the first two days WIM Fiona Steil-Antoni and GM Evgenij Miroschnichenko will be providing English commentary of the games on the Lichess Twitch and YouTube for Day 3. Russian commentary will be available on MatchTV (Russian TV-channel).
Semifinal and final matches - 14 May 2020:
12:00 GMT:
Vladimir Kramnik v Alexander Grischuk
Alexander Grischuk v Vladimir Kramnik
13:00 GMT:
Peter Svidler v Evgeny Tomashevsky
Evgeny Tomashevsky v Peter Svidler
14:00 GMT:
Finalist 1 v Finalist 2
Finalist 2 v Finalist 1
Finalist 1 v Finalist 2
Finalist 2 v Finalist 1
If scores are equal, an Armageddon round will be played.
Standings after 14 rounds:
| | | |
| --- | --- | --- |
| Position | Participant | Points / 14 |
| 1. | Vladimir Kramnik | 10.5 |
| 2. | Peter Svidler | 9 |
| 3. | Evgeny Tomashevsky* | 8 |
| 4. | Alexander Grischuk* | 8 |
| 5. | Sergey Karjakin | 7.5 |
| 6. | Ernesto Inarkiev | 5.5 |
| 7. | Ian Nepomniachtchi | 5 |
| 8. | Alexander Riazantsev | 2.5 |

* Sonneborn-Berger was used
Text: lichess.org