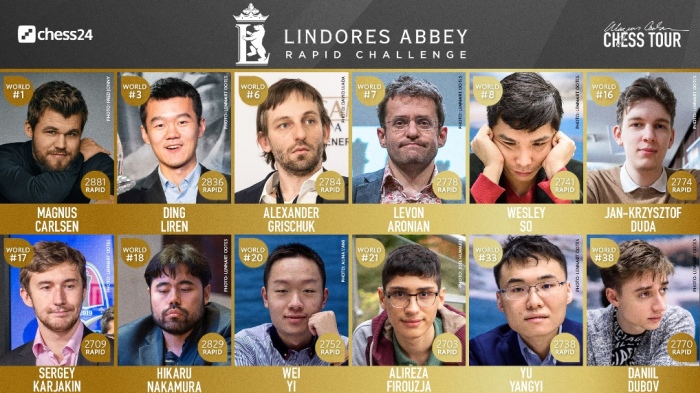 A glittering line-up of stars put on a stunning show of attacking chess on the first day of the Lindores Abbey Rapid Challenge. World Champion Magnus Carlsen cruised through the first four rounds to set the pace again in the expanded 12-player second event of his $1 million Magnus Carlsen Chess Tour. The Norwegian got off to a fast start with two wins in a bloody first two rounds. Other players also were in fighting mood as nine of the first 12 games ended decisively.
However, Carlsen had to settle for draws in the third and fourth games against two of his biggest threats: Ding Liren and Hikaru Nakamura. Nakamura enjoyed a similarly smooth run and joins Carlsen and former US champion Wesley So in the lead on 3/4.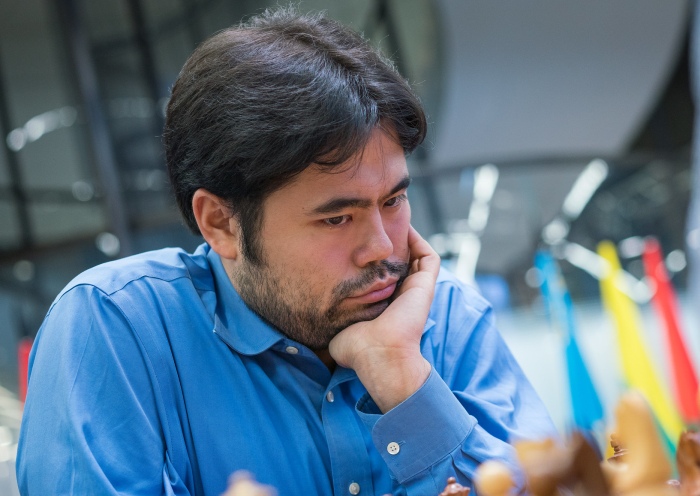 Photo: Lennart Ootes
Sergey Karjakin, who challenged Carlsen for the world title in 2016, caught up with the leaders after winning his final game vs. Jan-Krzysztof Duda. Of the other players, the Chinese pair Wei Yi and Yu Yangyi both struggled - perhaps due to the night-time zone where they were playing. Wei, particularly, seemed out of sorts as he finished on 1/4 and blundered a painful checkmate against Karjakin in his third game being a pawn up.
Daniil Dubov, playing from Yekaterinburg where he has been since the Candidates tournament was halted, also scored only one point. It follows his final-day collapse in the FIDE Steinitz Online Memorial over the weekend. Wei and the Russian were joined in a four-way tie for the last place with the two talented youngsters Alireza Firouzja and Jan-Krzysztof Duda.
Meanwhile, the two experienced Super Grandmasters Levon Aronian and Alexander Grischuk had mixed days scoring 2/4. Both will be hoping to catch up with the leaders tomorrow.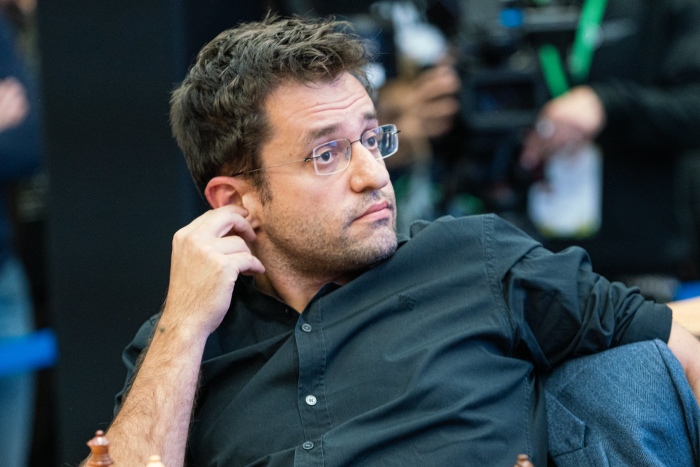 Photo: Maria Emelianova
IM Lawrence Trent said: "It has been a successful day for some and a not so successful day for others.
"Magnus Carlsen has once again shown us fantastic chess for the most part, as has Hikaru Nakamura, they had a great game just now, very tense."
"Sergey Karjakin has also shown certainly that he's motivated and Wesley So is also up there having done pretty well today."
The event, which runs until June 3, is being put on in association with the Lindores Abbey Heritage Society, which maintains the historic site.
Coverage begins with commentary in 10 languages at 16.00 CEST.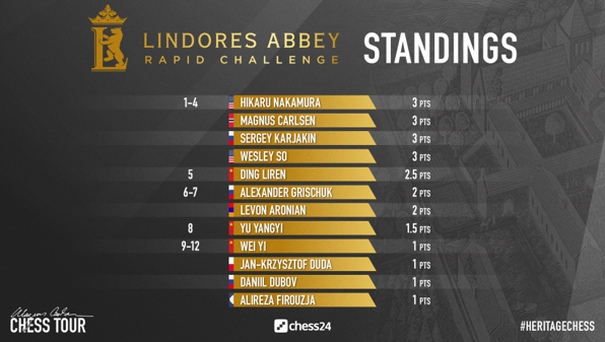 You can watch it live here
New files at around 23.00 CEST.
FOR MORE INFORMATION:
Leon Watson
leon@chessable.com
+447786 078770