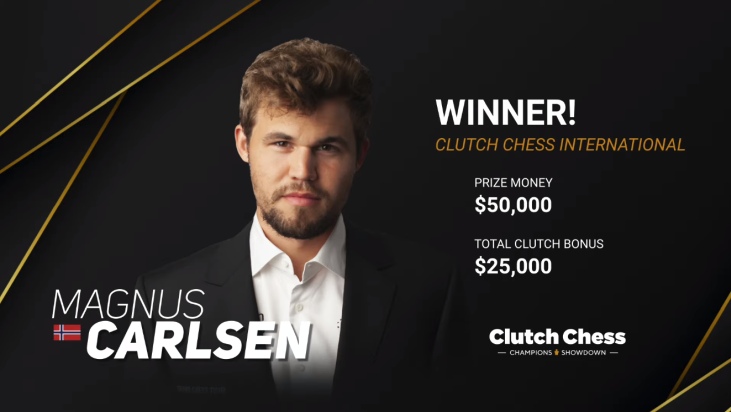 The Clutch Chess International tournament concluded with a gripping final match between World Champion Magnus Carlsen and World #2, Fabiano Caruana, with Carlsen claiming victory in the final round and taking home the grand prize of $50,000 and an additional $25,000 in clutch bonuses. This historical online tournament, hosted by the Saint Louis Chess Club and created by Grandmaster Maurice Ashley, featured electrifying knockout matches that had the audience glued to their seats after every move.
Clutch Chess International offered the world's best Grandmasters the opportunity to compete in the event, which boasted a $265,000 prize fund, the largest ever offered for an online chess event. Clutch Chess took place from June 6 - 14, 2020 with expert commentary by GMs Yasser Seirawan and Maurice Ashley, and WGM Jennifer Shahade throughout. This tournament proved to be the most-watched live event in the 12-year history of the Saint Louis Chess Club, with more than 28,000 fans watching Carlsen and Caruana battle it out on the final day of Clutch Chess International.
"We thought the first Clutch Chess tournament would bring unexpected surprises and unmatched gameplay, but Clutch Chess International turned up the heat with even more aggressive matches, higher stakes, and nail-biting excitement throughout the tournament," said Tony Rich, Executive Director of the Saint Louis Chess Club. "This was a golden moment of sportsmanship and fierce competition for fans during the quarantine."
The eight Grandmasters who competed in Clutch Chess International were Magnus Carlsen (reigning World Champion, Norway), Fabiano Caruana (World number 2, USA), Maxime Vachier-Lagrave (World # 5, France), Alexander Grischuk (World # 6, Russia), Levon Aronian (World # 7, Armenia), Wesley So (World # 8 and recent winner of Clutch Chess USA, USA), Leinier Dominguez (World # 6 in Rapid, USA), and Jeffery Xiong (USA # 5).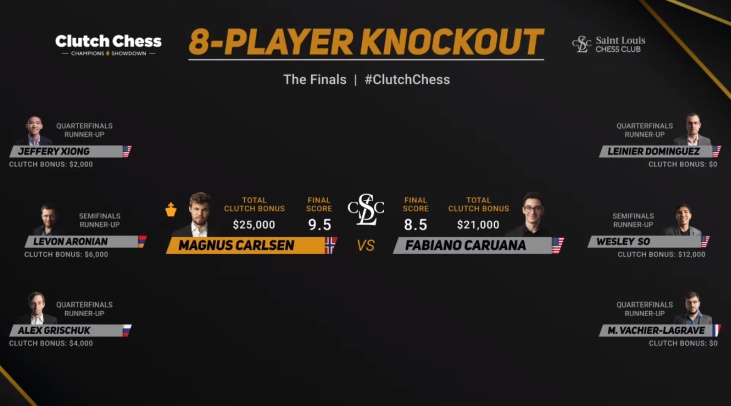 Magnus Carlsen's victory against Fabiano Caruana didn't come easily. After a crucial win in round 10, the World Champion took a point lead going into the final two clutch games, where each win was worth three points. With a clutch victory in game 11, Caruana took a two-point lead and pocketed $13,000 as a clutch bonus. Going into the final game, Carlsen was in a must-win situation but nonetheless seemed relaxed and confident. In his post-game interview, the World Champion opined that neither of the players was defending difficult positions well, and revealed his strategy was to keep Caruana under pressure throughout the match. The final game was ultimately a one-sided affair after Carlsen's powerful sacrifice on move 16 that allowed his pieces to converge on Caruana's king, forcing resignation on move 31.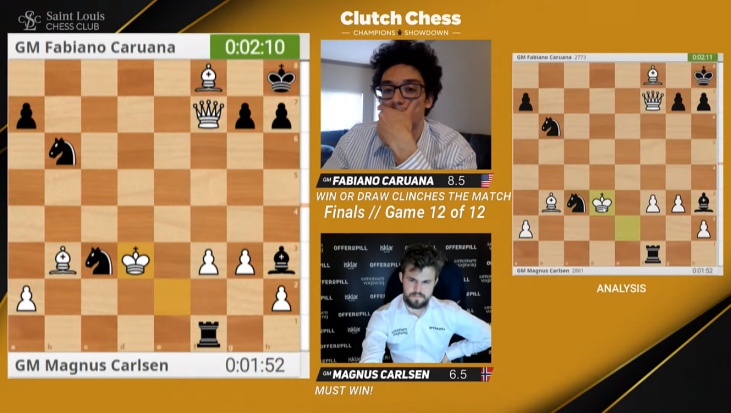 "The tournament winner could have gone either way today, I won the first games and then the next few games Fabiano did better than I," said World Champion Magnus Carlsen. "I knew that if I could put him under pressure then I would have a chance for the win. The way things went in the final game was a dream for me and I was ultimately able to go for the jugular at an early point and win the tournament," said Clutch Chess International winner, Magnus Carlsen
"Honestly Clutch Chess is a very interesting idea and I've enjoyed this unique format immensely. Fabiano is a force to be reckoned with and I look forward to competing against him again soon in the Magnus Carlsen Tour. He deserves credit for an excellent overall performance," said Carlsen.
The prize breakdown and scoring were similar to Clutch Chess USA, with $10,000 in bonuses awarded to players who delivered victories in the clutch games in each match, while drawn clutch games ultimately rolled the money into the final two clutch games of the event. The prize structure is such that if a competitor won the final two games, he could win as much as $70,000 in bonuses alone.
| | | | | |
| --- | --- | --- | --- | --- |
| Place | Name | Regular Earnings | Clutch Bonus | Total Prize Winnings |
| 1 | Magnus Carlsen | $50,000 | $25,000 | $75,000 |
| 2 | Fabiano Caruana | $35,000 | $21,000 | $56,000 |
| 3-4 | Wesley So | $25,000 | $12,000 | $37,000 |
| 3-4 | Levon Aronian | $25,000 | $6,000 | $31,000 |
| 5-8 | Alexander Grischuk | $15,000 | $4,000 | $19,000 |
| 5-8 | Jeffery Xiong | $15,000 | $2,000 | $17,000 |
| 5-8 | Leinier Dominguez | $15,000 | $0 | $15,000 |
| 5-8 | Maxime Vachier-Lagrave | $15,000 | $0 | $15,000 |

This was the second installment of Clutch Chess, as Clutch Chess USA took place in May 2020 where Grandmaster Wesley So beat three other American Grandmasters and won $40,000 in prizes.
For more information about the two recent Clutch Chess tournaments, to read daily recaps, and to re-watch the games with commentary, visit uschesschamps.com.
About The Saint Louis Chess Club
The Saint Louis Chess Club is a non-profit, 501(c)(3) organization committed to making chess an important part of our community. In addition to providing a forum for the community to play tournaments and casual games, the club also offers chess improvement classes, beginner lessons, and special lectures.
Recognizing the cognitive and behavioral benefits of chess, the Saint Louis Chess Club is committed to supporting those chess programs that already exist in area schools while encouraging the development of new in-school and after-school programs. For more information, visit saintlouischessclub.org.
For more information, please contact:

Rebecca Buffington
Saint Louis Chess Club
(314) 277-3930
rbuffington@saintlouischessclub.org