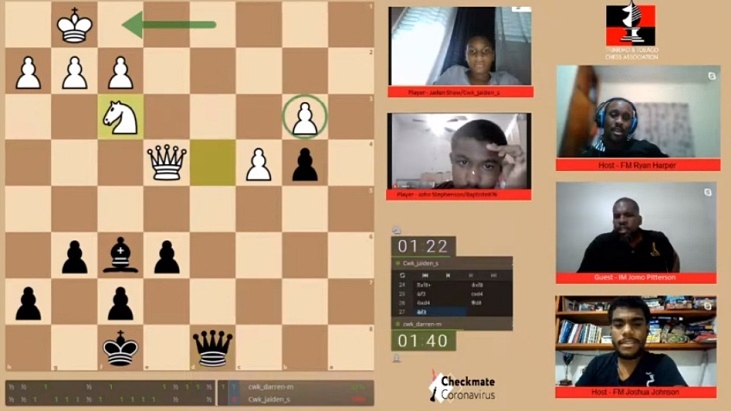 The Trinidad and Tobago Chess Association (TTCA) recently hosted the 1st Regional Online Chess Championship, a blitz tournament (3 min +2 sec increment) for Under 18 youth with an ELO less than 1800, over the period June 13-17, 2020.
There seemed to be vast excitement surrounding this event as 173 players from 14 countries in the Caribbean Region played in the qualifying round on June 13, 2020. The tournament was played in the Arena format where players were paired continuously for 90 minutes. The top 14 players then joined the National Under 18 Champions of Trinidad and Tobago, CM Sean Yearwood from St. Mary's College and WCM Shemilah James from St. Francois Girls' College, in the Round of 16. FM Adrian Atwell, FM Ryan Harper, and FM Joshua Johnson provided live commentary throughout the event.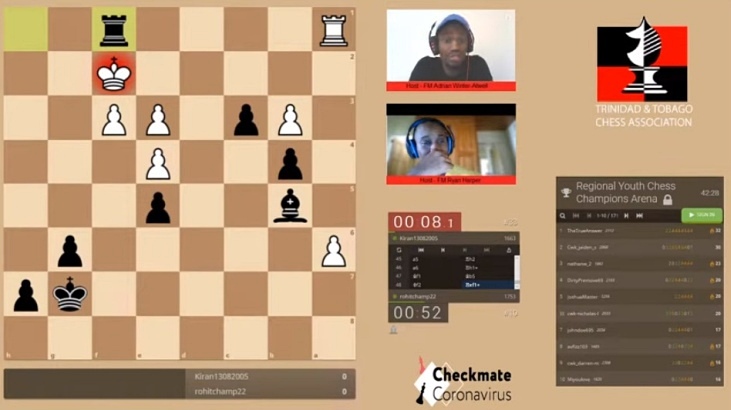 The competition was aligned with FIDE and CCA policy to make online chess as an important tool for development. It was also integrated into the FIDE project Checkmate Coronavirus. The competition was dominated by the Jamaican players, with Darren Mc Kennis, Jaden Shawand, and John Stephenson taking the first places.
WCM Raehanna Brown became the best-performing female, whereas Rohit Mahtani was the winner in the Under 12 category.
The TTCA President was overwhelmed by the success of the tournament: "We felt we needed to engage the community in a positive way and the team supported an online event extended to the Caribbean Region. I could not have anticipated the level of support especially given the very short notice. This was the first time we embarked upon such an initiative, going as far as to have live commentary. A great deal of work had to be done in the back end to facilitate this and I thank TTCA Treasurer, Keelan Hunte, who served as the 'anchor', ensuring that the technical details were effectively addressed."
Covid-19 has presented challenges to all sports, while other opportunities emerged. The TTCA will continue to uses these online channels to deliver its mandate as far as possible until it can safely return to over the board play. Videos of the various rounds can be found on the TTCA Youtube channel.
The TTCA is committed to hosting more events that seek to further develop chess both locally and throughout the region.