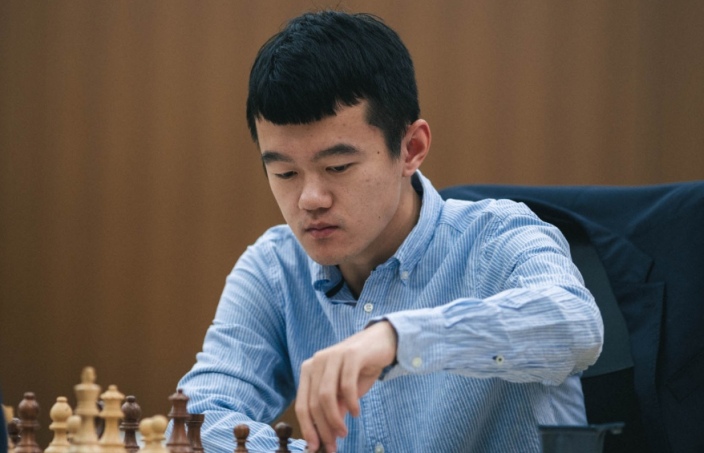 Ding Liren powered past Hikaru Nakamura and made it into the last four of the $150,000 Chessable Masters with the minimum of fuss today.
It took the Chinese number 1 just three games to dispatch the American, known for his speed chess prowess and to set up a semi-final clash with World Champion Magnus Carlsen.
It followed a dramatic match yesterday that saw Nakamura, the popular American streamer who boasts 435,000 followers on Twitch, come back to level the tie. Ding had convincingly won the first set on Friday while Nakamura needed a blitz play-off and an Armageddon tiebreak on Sunday to draw level.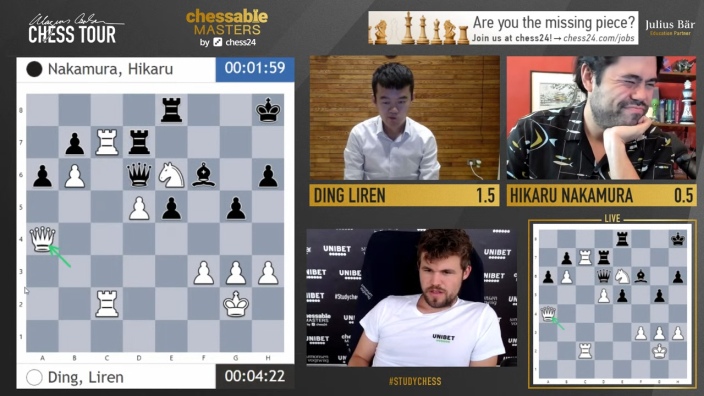 On his upcoming match with Ding, Magnus Carlsen said: "It's going to be tough obviously but I feel good.
"He [Ding] has shown in these tournaments, and especially in this match, that he has got some serious positional jobs, he can just run you over without giving you counter-chances in a lot of games. So he is extremely strong.
Ding said of the semi-final clash to come: "It's a very exciting match I have and just enjoy the games. I'm very happy to play against Magnus since we play a lot of exciting and fighting games."
Today's deciding set started with a draw but then Ding took full control to win the second and third games, meaning a fourth wasn't needed.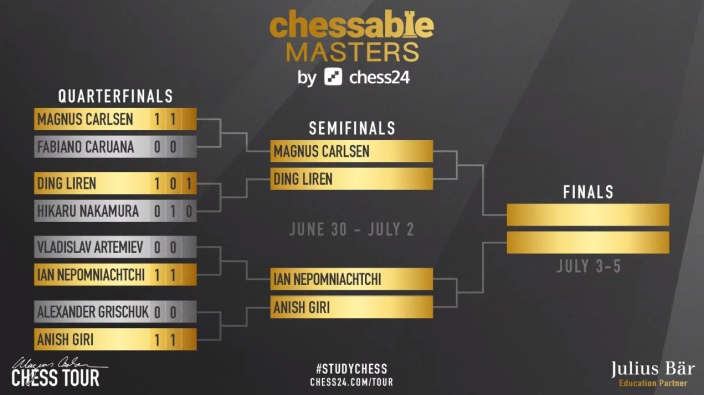 About the tournament
The event, broadcast live on chess24, is the next stage of the Magnus Carlsen Chess Tour which carries a total prize pot of $1 million, a record for the online game.
The Chessable Masters, which runs until July 5, is being put on in association with Chessable and the tour's Education Partner, leading Swiss private banking group, Julius Baer.
Players were split into two groups (A and B) of six for the preliminary stage before eight progressed to the knockouts.
The final winner will take home the top prize of $45,000 and a ticket to the $300,000 tour Grand Final.
Coverage begins with commentary in 10 languages at 16.00 CEST.
You can watch it live here:
https://chess24.com/en/watch/live-tournaments/chessable-masters-2020-group-a#live
Highlights English:
https://drive.google.com/drive/folders/1dpG2c-dmqs58tSDSZvxzGNqzgquJyO0g?usp=sharing
FOR MORE INFORMATION:
Leon Watson
leon@chessable.com
+447786 078770