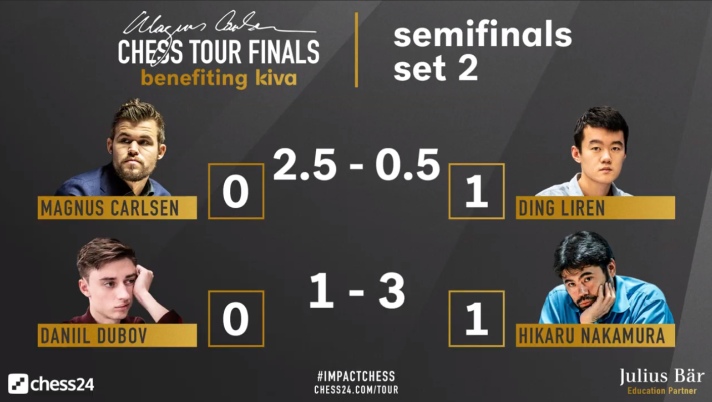 Magnus Carlsen got himself back on level terms in his signature Tour Finals semi today after a shock opening loss yesterday.
The World Champion was in complete control as he raced into a 2-0 lead against Ding Liren and then got the draw he needed for a 2.5-0.5 win.
It comes after a drama-filled match yesterday saw Carlsen suffer a technical glitch and go on to lose to Ding in a tense tiebreaker.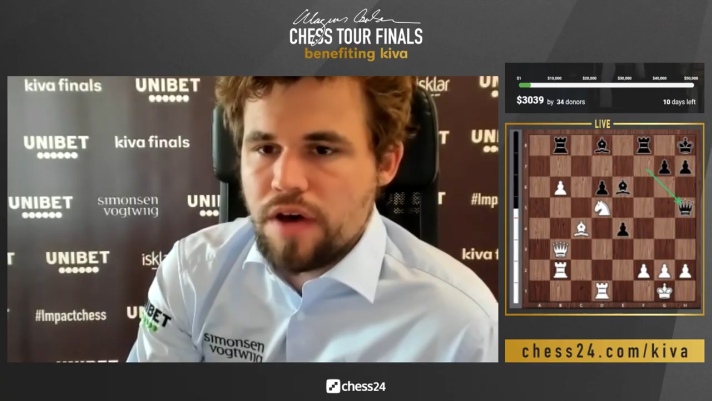 Speaking about today's quick result, Carlsen said: "I guess it's good for our mental health!"
Carlsen and Ding are now 1-1 in their best-of-five tie in the Magnus Carlsen Chess Tour Finals benefiting Kiva.
The event carries a $140,000 top prize and is the climax of Carlsen's $1 million signature tour, the richest and most prestigious online chess event ever.
Asked if he had extra motivation today, Carlsen said afterward: "Obviously today was crucial in the sense that I couldn't really afford to lose."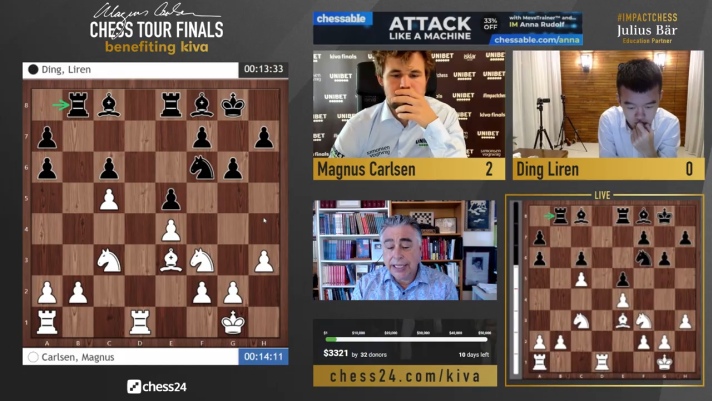 Carlsen, the winner of three of the four qualifying tournaments for this event, added: "In general, I played a good match today and I felt I was in control."
On yesterday's loss, Carlsen said: "I lost one game by not registering that my opponent had moved."
In the other semi, Daniil Dubov and Hikaru Nakamura were neck-and-neck after two games until the popular American pulled away 2-1 in Game 3.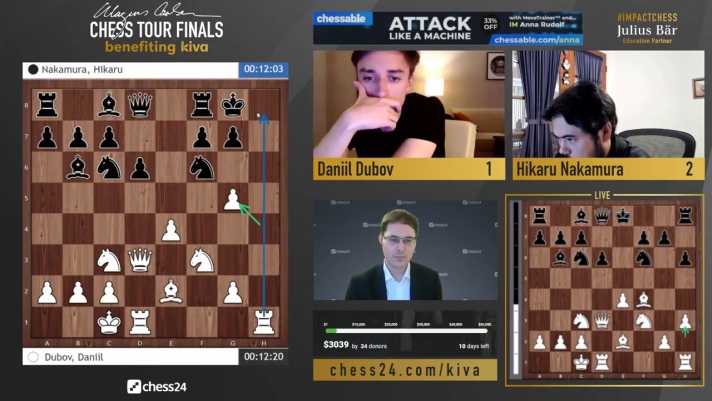 With Nakamura needing just a draw in Game 4, it was a must-win for Dubov and the young Russian was forced to push. But Dubov's risky play didn't pay off and Nakamura rode out the attack to take the game and win the match by a convincing 3-1 margin.
Nakamura now has 2 sets to 0 lead in the tie with just one more needed to book a place in the grand final.
Day 3 of the Tour Finals starts at 16:00 CEST tomorrow with Carlsen-Ding and Nakamura-Dubov playing their third sets.
Supporting Kiva
Broadcaster chess24 has pledged 50 percent of new Premium memberships bought during its Tour Final to Kiva's Global COVID-19 Response fund that aims to raise at least $50 million for entrepreneurs and small businesses impacted by COVID‑19.
During the event, chess24 and Kiva will highlight stories where chess has changed people's lives under the official tournament social media hashtag #ImpactChess.
Viewers are encouraged to engage with the Tour Final and support small businesses impacted by COVID-19 by signing up for a premium subscription here.
More details on the Finals

The Magnus Carlsen Chess Tour was devised by Norway's World Champion and chess24 after traditional over the board chess was halted suddenly due to the COVID-19 pandemic.
The Tour Final kicks off on August 9 and runs until August 20. It is the culmination of four elite-level super-tournaments that began in March as a way of getting chess started again while other sports worldwide were prohibited.
The first four stages of the first Magnus Carlsen Chess Tour were:
Four players have qualified for the final crescendo of chess after being the best performers during the preceding tour events. The winner of the Tour Final, which has a total prize pot of $300,000, will scoop a top prize of $140,000 and the title of Champion of the Magnus Carlsen Chess Tour.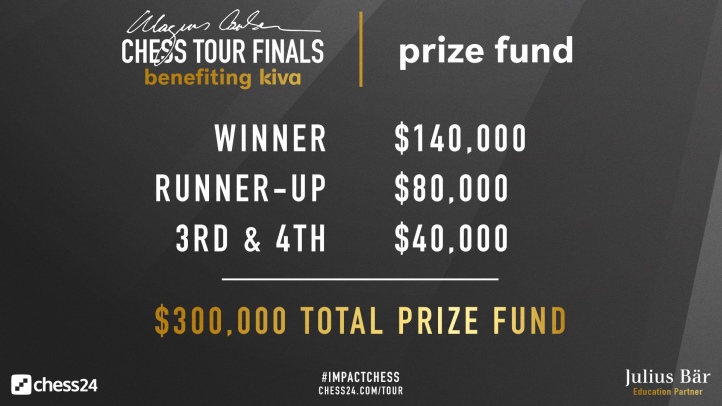 Tournament rules and schedule

The Tour Final will be a 12-day event running from August 9 to August 20. Time control is a rapid 15m + 10s from move 1 played in the chess24 Playzone.
The semi-finals of the Tour Final tournament will be a best of 5 four-game mini-matches. The final will be a best of 7 mini-matches. As usual, play will start at 16:00 CEST.

Highlights English:
https://drive.google.com/drive/folders/1_QSmtZoiwL24EGuZSEmi1UR5j4hInR0u?usp=sharing
New files at around 23.00 CEST

Rough edit highlights:
https://drive.google.com/drive/folders/12mwKPkAfzeyfzd1Gay-FU5dJ8uU6OXMY?usp=sharing
New files ready around 02.00 CEST

FOR MORE INFORMATION:
Leon Watson
leon@chessable.com
+447786 078770