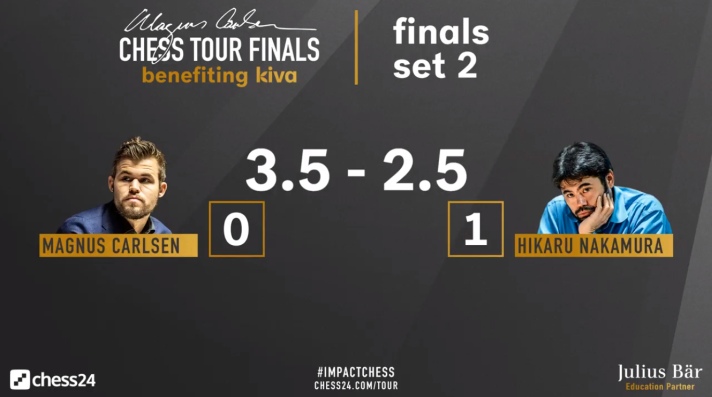 Magnus Carlsen had to use all his dark arts to overcome Hikaru Nakamura today and wrestle himself back into the final of his signature tournament.
The two fierce rivals played out a thrilling but at times a bizarre second day in the $140,000 Magnus Carlsen Chess Tour Final which the World Champion won to leave the match score at 1-1.
Nakamura, who dominated yesterday, had looked in ominous form as his rode to victory in the first game, a razor-sharp encounter that had fans on the edge of their seats.
A super-quick 14-move draw then followed as Carlsen wanted to stabilize and Nakamura was perfectly content to sit on his lead.
In Game 3, Nakamura and Carlsen resumed hostilities with the American again looking strong. But a small lapse from Nakamura left a door open for Carlsen to roar back.
The mistake cost the American dearly as Carlsen busted through to get the win he desperately needed to level the set 1.5-1.5.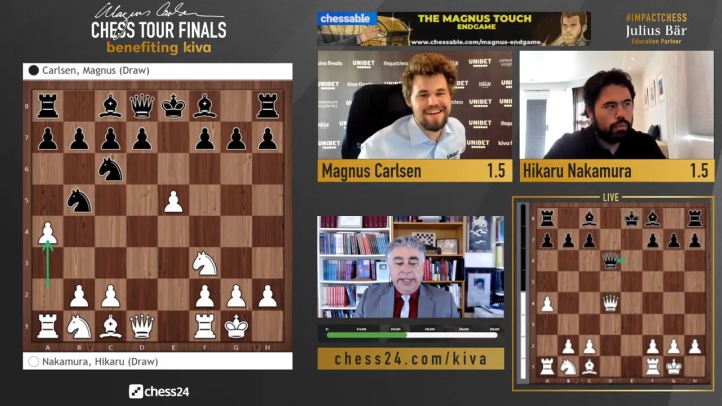 Then game 4 was an exact repeat of game 2 - a quick 14-move so-called "Grandmaster draw" that followed the precise moves and ended with a draw by repetition agreed between the players.
Carlsen laughed on screen as it ended as both players were obviously content to back their skills in two sped up games and push the set into a blitz chess tiebreaker.
"I thought it was just funny that we played the second game twice," said Carlsen afterward.
But in the commentary box four-time US champ Yasser Seirawan, a respected voice on the game, called it "cynical" and said it "leaves a bad taste".
Grandmaster Peter Leko added that rightly or wrongly in online chess the two quickly drawn games only served to ramp up the tension even more as Carlsen and Nakamura headed into the play-off.
The first blitz game ended in another draw - this time keenly-fought. But in the second pressure finally got to Nakamura and the challenger cracked. At last, there was something to separate the two and Carlsen had won the set.

When asked about Nakamura's mistake, Carlsen said: "Yeah, that was a pleasant feeling!"
Carlsen and Nakamura are now tied 1-1 in the best-of-seven final with play due to start again tomorrow at 16:00 CEST.
Supporting Kiva
Broadcaster chess24 has pledged 50 percent of new Premium memberships bought during its Tour Final to Kiva's Global COVID-19 Response fund that aims to raise at least $50 million for entrepreneurs and small businesses impacted by COVID‑19.
During the event, chess24 and Kiva will highlight stories where chess has changed people's lives under the official tournament social media hashtag #ImpactChess.
Viewers are encouraged to engage with the Tour Final and support small businesses impacted by COVID-19 by signing up for a premium subscription here.
More details on the Finals

The Magnus Carlsen Chess Tour was devised by Norway's World Champion and chess24 after traditional over the board chess was halted suddenly due to the COVID-19 pandemic.
The Tour Final kicks off on August 9 and runs until August 20. It is the culmination of four elite-level super-tournaments that began in March as a way of getting chess started again while other sports worldwide were prohibited.
The first four stages of the first Magnus Carlsen Chess Tour were:
Four players have qualified for the final crescendo of chess after being the best performers during the preceding tour events. The winner of the Tour Final, which has a total prize pot of $300,000, will scoop a top prize of $140,000 and the title of Champion of the Magnus Carlsen Chess Tour.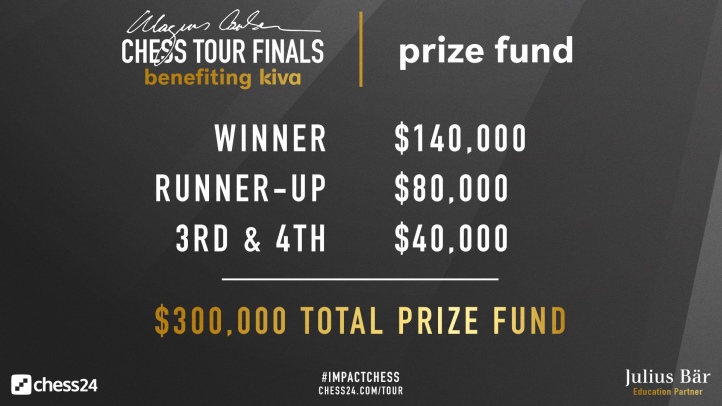 Tournament rules and schedule
The Tour Final will be a 12-day event running from August 9 to August 20. Time control is a rapid 15m + 10s from move 1 played in the chess24 Playzone.
The semi-finals of the Tour Final tournament will be a best of 5 four-game mini-matches. The final will be a best of 7 mini-matches. As usual, play will start at 16:00 CEST.
Highlights English:
https://drive.google.com/drive/folders/1_QSmtZoiwL24EGuZSEmi1UR5j4hInR0u?usp=sharing
New files at around 23.00 CEST
Rough edit highlights:
https://drive.google.com/drive/folders/12mwKPkAfzeyfzd1Gay-FU5dJ8uU6OXMY?usp=sharing
New files ready around 02.00 CEST
FOR MORE INFORMATION:
Leon Watson
leon@chessable.com
+447786 078770