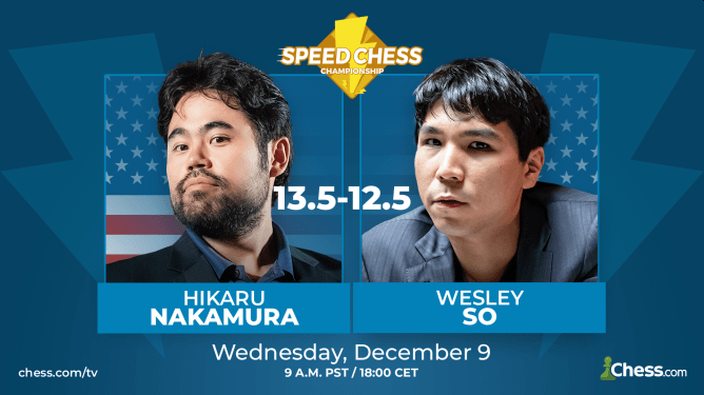 On his 33rd birthday, GM Hikaru Nakamura defeated Wesley So 13.5-12.5, thereby qualifying for Saturday's final of the 2020 Speed Chess Championship. GM Magnus Carlsen and Maxime Vachier-Lagrave will play on Friday for the other spot in the final.
The Nakamura-So match was a repeat of both the 2018 and 2019 finals of the Speed Chess Championship as well as a recurrence of their recent encounter in the Skilling Open.
Nakamura lost that last one and had made it clear that he was out for revenge, after his win in the SCC quarterfinal: "Certainly, it's payback time. I'm gonna be out for blood, I will say that much!"
The match was one of the closest of the championship so far, with the players still in a tie before the bullet segment. Nakamura expectedly made the difference in the 1+1 games but in the end, the margin was only one game.
It was So who started strongly in the five-minute segment. After two draws, he won both games that followed. To turn the tide, Nakamura decided to play a bit sharper. He chose the rare plan of castling queenside in the Italian and it worked out well.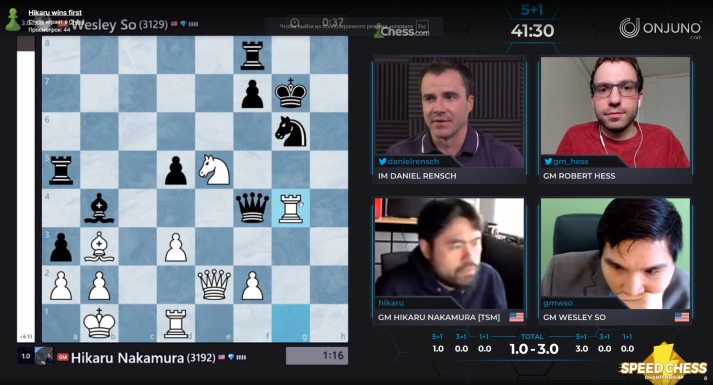 Nakamura also won games seven and eight and so he was leading 5-4 when the five-minute ended. He allowed his opponent to tie the score right away in the first 3+1 game as he mixed up the moves in another line of the Italian.
So had some momentum there as he also won the next game and should have held the one after. A huge blunder still kept the match tied.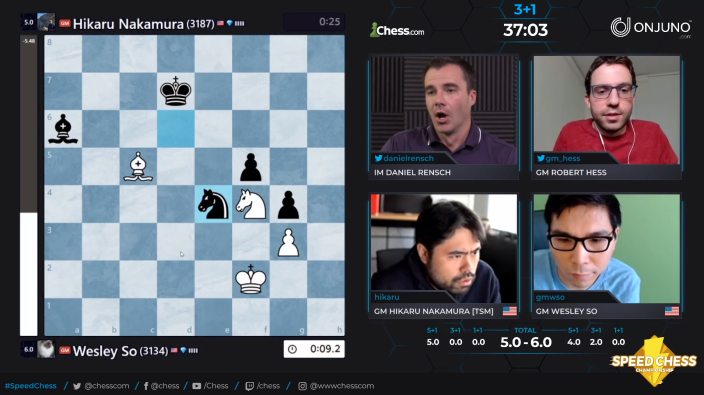 So won the penultimate 3+1 game in crushing style, eventually doing what Nakamura did to him: castling queenside in an Italian. But by then, White was already winning due to an early blunder from Black.
Afterward, So pointed out that his loss in the last 3+1 game (from such a solid position) was "very critical" as he won that second segment only by 4.5-3.5.
"If I had won that game I would be on plus two and it doesn't matter if I lose the bullet portion for sure but if I am on plus two I have at least a small cushion," said So. "Losing that game was a big blow because coming to the match I knew for sure that I was going to lose the bullet."
However, So was hardly the worse player in the bullet either. Nakamura ended up winning it with 5-4 only.
Still, the fact that he won for example a theoretically drawn rook endgame speaks for his incredible experience. So was playing the last 20 moves with just two or three seconds on the lock while Nakamura had about six, seven seconds all the time. He found the one moment where So slipped and took his chance.
Nakamura was more in control during the bullet than the final score might suggest. He was leading 13.5-10.5 after game 24, with four and a half minutes left on the match clock. He was never going to lose three games in that timeframe, if only because he could stall at the right moment.
There just wasn't enough time for So to have real chances even after winning Game 25. Game 26 started with a minute and 49 seconds left on the match clock and while Nakamura was headling for another loss, he made sure to use enough time to get there in the end — a generally accepted match strategy.
"I am very happy to win the match but in all seriousness, a lot of credit goes to Wesley, he played a very good match," said a gracious Nakamura afterward. "I think in many ways, he was the better player of the match. It's just that at the end of the day there were a couple of missed opportunities for him in the 5+1 and 3+1 and then in the bullet, I was just a little bit better. But I thought he played great."
So was a good sport after his loss: "First, I want to wish Hikaru a very happy birthday. Thank you for popularizing chess and doing a good job on your Twitch. Streaming is a big deal now that chess is moving online. May this be a good year for you and many more to come!"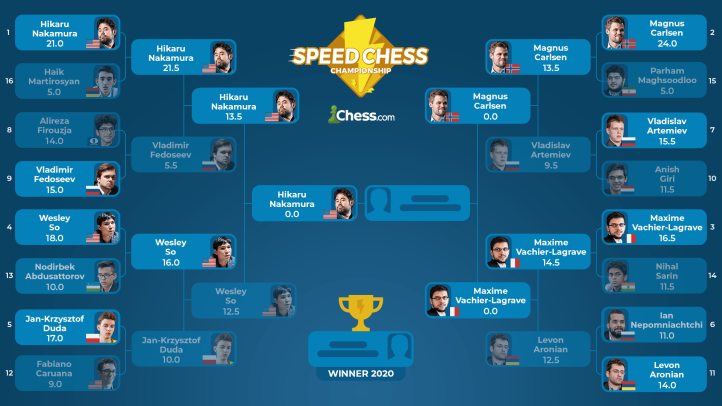 The 2020 Speed Chess Championship Main Event is a knockout tournament among 16 of the best grandmasters in the world who will play for a $100,000 prize fund, double the amount of last year. The tournament runs from November 1-December 13, 2020 on Chess.com. Each match will feature 90 minutes of 5+1 blitz, 60 minutes of 3+1 blitz, and 30 minutes of 1+1 bullet chess.
Text: Peter Doggers
Photo: chess.com