Haik Martirosyan and Anna Sargsyan became the first champions of the First FIDE World University Online Blitz Championship after winning the individual titles in blitz.
The biggest university chess event that brought together over a thousand participants from all around the world kicked off not the way it was planned. Due to some technical problems the organizers had to nullify the results of the first four rounds played on Saturday, March 13, and restart the blitz championship on Sunday after slightly changing the format.
Four groups of 272 participants each of approximately equal strength played 10-round Swiss preliminary tournaments. Two winners and two female winners from each group qualified for the final stage. There were two final stages, one for the overall winners of each group and one for women. All the games were played with the time control 3+2.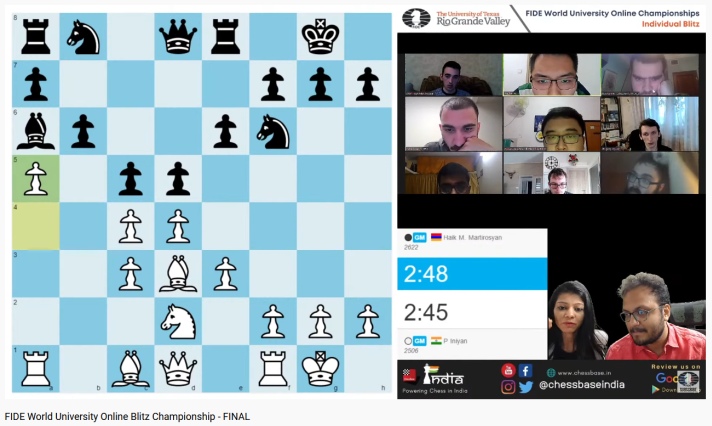 The finals of the First FIDE World University Online Blitz Championship were played on March 18 with the eight best players from the group stage - GM Mikhail Antipov and GM Iniyan P from group A, GM Grigoriy Oparin and IM Irakli Beradze from group B, GM Haik Martirosyan and GM Xu Yinglun from group C and GM Hovhannes Gabuzyan and IM Yoseph Theolifus Taher from group D – fighting for the title in the open section.
Haik Martirosyan, representing the Armenian State Institute of Physical Culture got off to a running start with four straight victories and sealed the title by drawing three subsequent games. The champion had a couple of tough positions along the way but his quickness and resourcefulness bailed him out of trouble.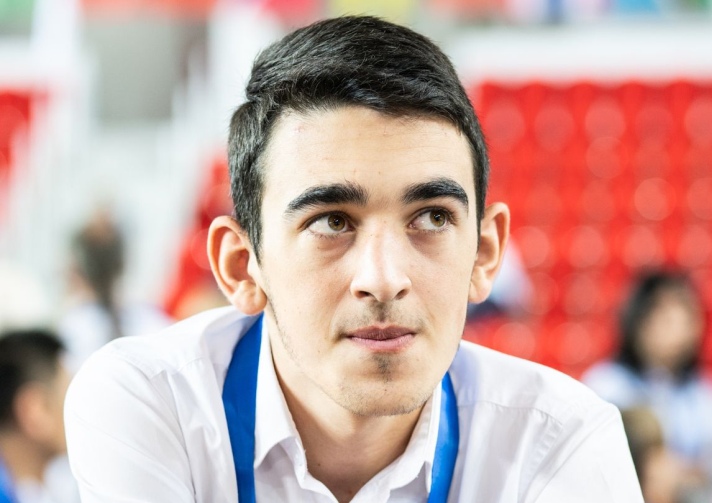 Haik Martirosyan Photo: Maria Emelianova (chess.com)
On the contrary, Iniyan P from Bharathiar University slipped in the first round but picked up steam and caught up with Martirosyan at the finish line. Despite his valiant effort he had to settle for silver due to inferior tiebreaks.
Mikhail Antipov representing the University of Missouri took bronze despite losing to both top-finishers.
Final standings:
1. Haik Martirosyan (ARM Armenian State Institute of Physical Culture) – 5½
2. Iniyan P (IND Bharathiar University) – 5½
3. Mikhail Antipov (RUS University of Missouri) – 4½
4. Xu Yinglun (CHN Shanghai University of Finance and Economics) – 4
5. Hovhannes Gabuzyan (ARM University of Texas Rio Grande Valley) – 3½
6. Yoseph Taher (INA Gunadarma University) – 2
7. Grigoriy Oparin (RUS University of Missouri) – 2
8. Irakli Beradze (GEO University of Texas Rio Grande Valley) – 1
IM Polina Shuvalova, WIM Julia Antolak, WIM Alicja Sliwicka, IM Iulija Osmak, IM Olga Badelka, WIM Nur Abidah Shanti, IM Stavroula Tsolakidou, WGM Anna Sargsyan qualified for the women's final.
Anna Sargsyan (Armenian State Institute of Physical Culture) lost the direct encounter to Olga Badelka (University of Missouri) but reeled off five straight wins and finished a full point ahead of her main competitor. Three players tied for second place with Olga Badelka and Alicija Sliwicka earning silver and bronze respectively according to Sonneborn-Berger.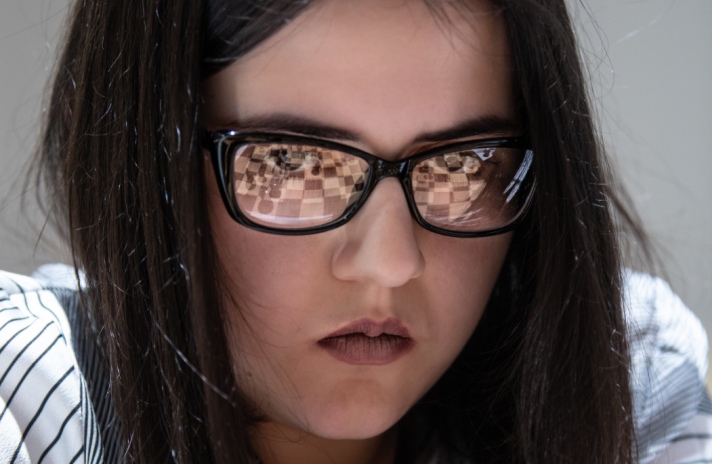 Anna Sargsayn Photo: David Llada
Final standings:
1. Anna Sargsyan (ARM Armenian State Institute of Physical Culture) – 6
2. Olga Badelka (BLR University of Missouri) – 5
3. Alicja Sliwicka (POL University of Texas Rio Grande Valley) – 4
4. Polina Shuvalova (RUS Ural State Mining University) – 4
5. Iulija Osmak (UKR University of Texas Rio Grande Valley) – 4
6. Stavroula Tsolakidou (GRE Saint Louis University) – 2
7. Shanti Nur Abidah (INA Gunadarma University) – 1½
8. Julia Antolak (POL University of Texas Rio Grande Valley) – 1½
The following four teams have qualified for the FIDE World University Team Online Blitz Cup, which will be held on 27 March on Chess24:
University of Texas Rio Grande Valley (USA)
University of Missouri (USA)
Armenian State Institute of Physical Culture and Sport (ARM)
Saint Louis University (USA)