The rapid portion of Superbet Rapid and Blitz Poland came to an end with Vishy Anand winning the rapid section, though his two points lead was diminished to one after the Indian legend conceded his first loss in the last round to his closest rival GM Richard Rapport. Tomorrow will see the first round of blitz games, with nine games lined up to be played. With eighteen points up for grabs, it is safe to say that the top six players after the rapid portion have good chances to win the event.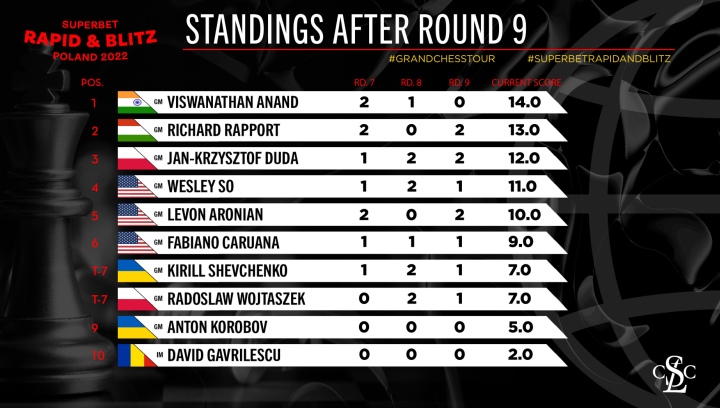 Round 7
Vishy Anand began the day with another victory in style. After a calm Scotch Game, Anand won pair of Bishop in exchange for a slightly inferior pawn structure. Anand demonstrated his trademark tactical wit and seized the initiative. Gavrilescu realized things are going wrong too late and Anand won the game in style, moving to a whopping 13/14 points.
Such results may suffice in any other tournament to claim the Rapid portion but only if there is no Richard Rapport in it! The Hungarian GM posted his fifth consecutive victory after outplaying Polish GM Radek Wojtaszek from the White side of an offbeat Sicilian. With this result, it was apparent that the race for winning the rapid part over the next two days would be between Anand and Rapport.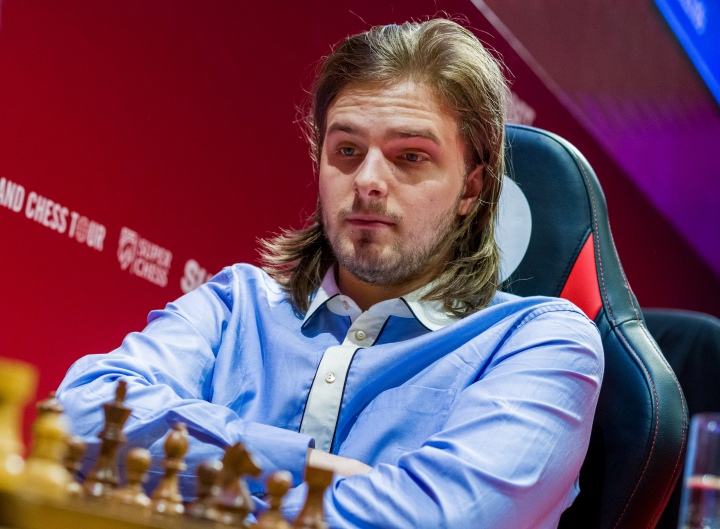 Richard Rapport showing his class | Photo: Grand Chess Tour, Lennart Ootes
Levon Aronian did not display Houdini-like play this time as he made the most out of tactical errors of his opponent, Anton Korobov, who happened to have an off day at the office.
Fabiano Caruana did not want to make a quick draw against Wesley So's sound handling of the Italian Game and ended up being in a worse and close to losing position after taking a pawn at the cost of weakening his king. Wesley So had an advantage both on the clock and on the board but did not deliver the finishing punch on a number of occasions. Consequently, Caruana made the most out of his chances and gradually neutralized Black's decisive attack into a manageable initiative. The players continued the game for sometimes but it was clear that a draw is bound to happen and such results were reached on move 92.
Jan-Krzysztof Duda and Kirill Shevchenko pursued a well-known theoretical line in Chebanenko Variation of Slav Defense. Shevchenko appeared well prepared and he never had a problem in this game. Yet, under time pressure he had to concede to a Rook vs Rook and Bishop endgame where he needed to play another fifty moves to hold the game to a draw.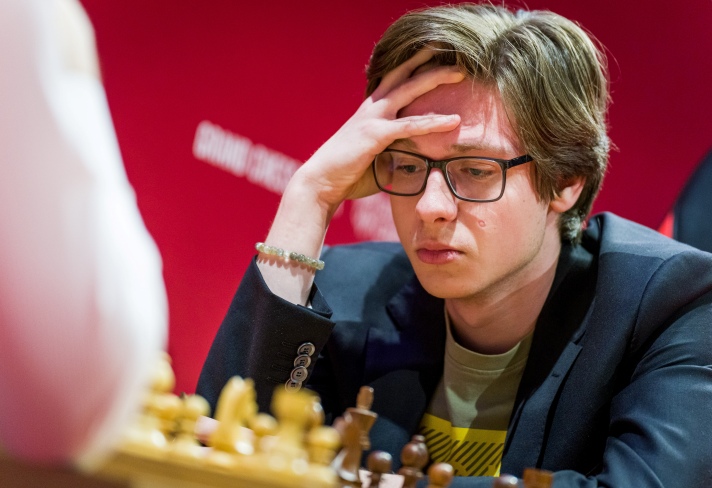 In concentration mode - GM Kirill Shevchenko | Photo Courtesy of Grand Chess Tour, Lennart Ootes
Round 8
The key battles of this round were between the leader Vishy Anand against Fabiano Caruana and Wesley So against Anand's closest contender, Richard Rapport.
Anand and Caruana entered a heavily theoretical battle in Petroff Defense, the very opening Caruana adapted as his 'pet' line against the world champion Magnus Carlsen in the 2018 world championship match. The player lashed out their first fifteen moves and then Anand went for 16.Bxd6. The game transposed to a game of Anand against the Chinese GM Yu Yangyi from 2019. Caruana played the best possible defense and that left Anand with no choice but to force a draw with a perpetual check.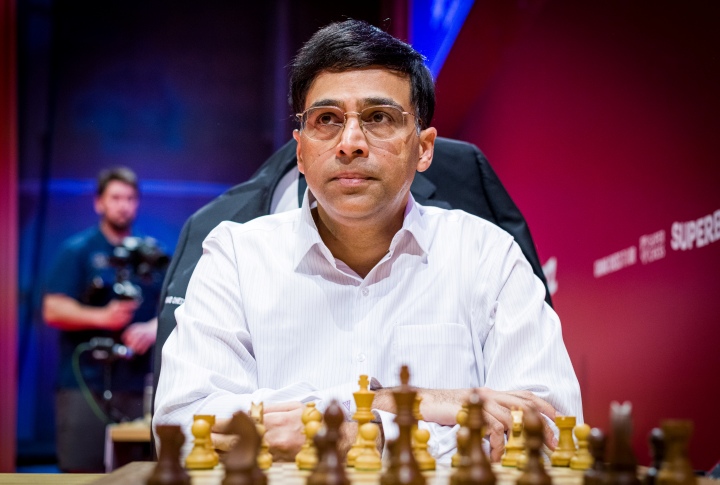 You know you are doing it right when a draw is somewhat disappointing. GM Vishy Anand in focus mode. | Photo: Grand Chess Tour, Lennart Ootes
While the Anand-Caruana game was somewhat uneventful, So-Rapport was a thrilling encounter. The Hungarian, once again, employed a sideline in King's Indian defense and Wesley So responded in an aggressive fashion. The game was complicated but Wesley So blundered with 22.a4??, after which, Rapport demonstrated a great understanding of the position's dynamic and brought the game to a winning point. But the reason we love this quicker time control is the drama and unpredictability. When 43…Bd7 was the only winning move Rapport threw the game with 43…Qe6?? After which Wesley So's attack on the seventh rank was unstoppable. Rapport soon resigned and with this result, Vishy Anand secured the top spot with still one round to go.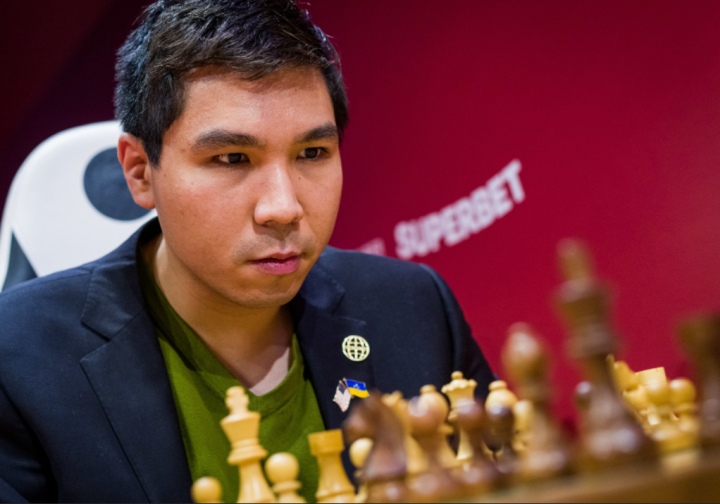 Go big or go home! Wesley So, seconds before his game against Richard Rapport | Photo: Grand Chess Tour, Lennart Ootes
Speaking of drama, the two youngest GM's in the tournament, Shevchenko and Gavrilescu provided the most fun and exciting moves in today's head-to-head encounter. Shevchenko adapted the same King's Indian attack that Rapport had employed the other day against Gavrilescu. Confident in his preparation, the young Romanian responded with the same setup. The choice proved fruitful as Gavrilescu achieved a winning position. Nevertheless, time pressure proved to be the decisive factor one more time. After the advantage went from hand to hand a couple of times Kirill Shevchenko showed his tactical accuracy with a few seconds on the clock and ultimately emerged victorious.
Radek Wojtaszek demonstrated the reason why people are wary of the mainline of Najdorf Sicilian with his exemplary win over Anton Korobov. In a short-castle version of Najdorf Wojtaszek attacked White's center before Korobov even manages to start any attack on the kingside. The Polish GM soon secured two pawns under his belt and went on to win the endgame with ease.
The game between Levon Aronian and Jan-Krzysztof Duda could have been a draw at any point should the players wish to make one. In an opposite-color bishop middlegame, the opponnets refrained from solid ways to make a draw and entered a topsy-turvy bishop and rook endgame with a few minutes on the clock. Duda had an easier task and obtained a winning position after Aronian erred. But the local hero let go of it the first time until Aronian made a mistake again and this time the Pole's a-pawn proved too strong and Duda scored a crucial victory to move into third place for the event.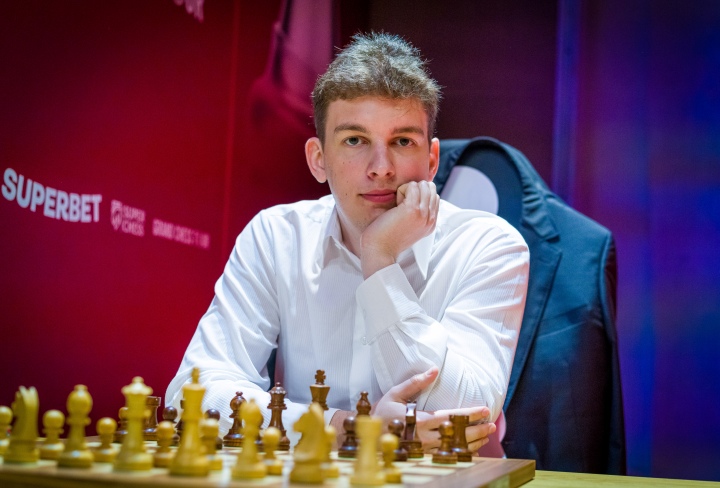 A good day at the office! GM Jan-Krzysztof Duda | Photo: Grand Chess Tour, Lennart Ootes
Round 9
In the final round of the rapid portion, all eyes were on the clash of the leaders Richard Rapport and Vishy Anand. Although Anand had secured his lead at the end of this part, the final tournament standings depend on the aggregate points in both rapid and blitz sections. So, with eighteen points still at stake in the blitz, it is clear that the players would want to make the most out of their last two-pointer rapid matches.
Rapport played the odd 4.a4?! in the Four-Knight opening, which he called "nonsense" in his post-game interview. Anand's response was not exactly 'accordingly' but it was good enough to earn him a good position. After a few active moves, Anand was in a driving seat and after sacrificing a pawn it seemed that he is en route to another attacking game. However, that did not happen to be the scenario this time around. In a highly complex position, Rapport responded innovatively and after a few inaccuracies on Anand's part, the Hungarian found himself in a better position. Yet, Anand wasn't rattled and he began to put up fierce resistance. When it seemed that Anand's perseverance is paying off the leader of the tournament made two back-to-back blunders, of which, Rapport took advantage of the second one and ended up winning the game. Thus Rapport came clear second narrowing the gap to just a point behind the Five-time world champion.
Jan-Krzysztof Duda took advantage of Anton Korobov's off-day and blew his opponent off the board from the White side of the King's Indian defense. This was Korobov's fourth loss in a row.
The game between Radek Wojtaszek and Wesley So was relatively uneventful. The former had a 'symbolic' advantage throughout the game but it didn't suffice to put any dent into Black's position. The game ended in a draw in an opposite-color bishop ending.
Levon Aronian chose a passive setup against David Gavrilescu in favor of keeping more pieces on the board. The American GM played fast despite having an inferior position. This approach worked out as the Romanian youngster ended up spending a lot of time and choosing the wrong moment to open the game (18.e5). Later on 22.Bf2 proved too bad, after which the seasoned Aronian had no problem cruising into the victory.
The final game of the round between Fabiano Caruana and Kirill Shevchenko did not look promising for the American participant in the upcoming FIDE Candidates. After surviving the first wave of Black's attack Caruana made a series of mistakes and found himself in down a pawn rook and knight vs rook and bishop endgame. Yet, the Ukrainian did not have enough time for accuracy, and the game ended in a draw after the younger player missed his winning chances.
Tomorrow's blitz will be an exciting one to watch! Who do you think will make a run in the remaining two days?!
Our coverage of the 2022 Superbet Rapid & Blitz Poland Day 4 continues on Sunday, May 22d at 6:50 AM CDT with live studio coverage from Grandmasters Yasser Seirawan, Peter Svidler, and Alejandro Ramirez, and on-location coverage with Grandmaster Cristian Chirila and Woman Grandmaster Anastasia Karlovich.
Watch all the action live on GrandChessTour.org.
Text: GM Elshan Moradiabadi
Photo: Courtesy of Grand Chess Tour, Lennart Ootes and Bryan Adams
Superbet Rapid & Blitz Poland Sponsors

---
Further Information:
Web: GrandChessTour.org | Twitter: @GrandChessTour
Instagram: @GrandChessTour | Facebook: @GrandChessTour
Venue:
Museum of the History of Polish Jews in Warsaw, Poland
May 19 - May 23, 2022
Press Contact:
press@grandchesstour.org
Livestream:
GrandChessTour.org
Photos:
Courtesy of Grand Chess Tour and Spectrum Studios
Credits available on Flickr