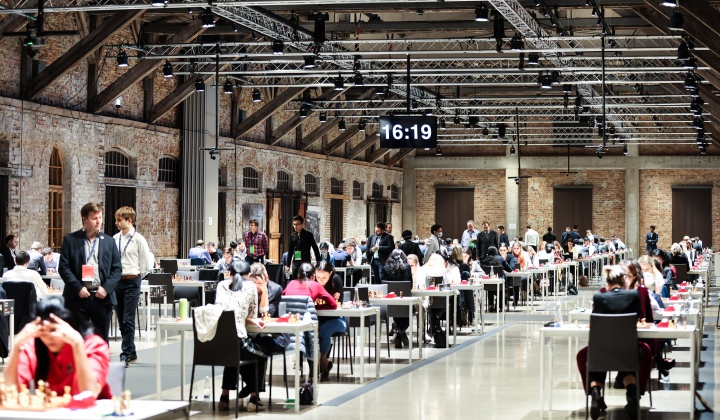 FIDE is pleased to announce the first batch of qualified players for the FIDE Grand Swiss and Women's Grand Swiss, according to the FIDE Rating List for June 1st. Both events are to be held in Douglas, Isle of Man, from October 23 to November 6. The full list can be found below.
Qualified players can download their contracts from the following links, and return them signed to office@fide.com, with CC to alan@iomchess.com. They must also fill in their bank details in the form below and sent it together with the signed contract.
Contract template for participants in the FIDE Grand Swiss
Contract template for participants in the FIDE Women's Grand Swiss
Form: Bank Account Details (both for open and women's)
The deadline for players to confirm their participation is July 3, 12:00 CET. The organizing committee would appreciate it if those who plan to turn down the invitation could inform FIDE as soon as possible, so a reserve player can take their place.
The deadline for reserve players is July 7, 16:00 CET, but they are encouraged to send their signed contracts at their earliest convenience.
You will note from the contract that it is the players' responsibility to arrange their own accommodation for 14 nights - there is no "official hotel".
You can find the full regulations on the FIDE Handbook:
Regulations for FIDE Grand Swiss 2023 (PDF)
Regulations for FIDE Women's Grand Swiss (PDF)

Qualified players, FIDE Grand Swiss
#

PLAYER

FED

FRL
June 23

1

Carlsen, Magnus

NOR

2853

2

Firouzja, Alireza

FRA

2786

3

Ding, Liren

CHN

2780

4

Nepomniachtchi, Ian

RUS

2779

5

Nakamura, Hikaru

USA

2775

6

Caruana, Fabiano

USA

2773

7

Giri, Anish

NED

2772

8

So, Wesley

USA

2765

9

Anand, Viswanathan

IND

2754

10

Rapport, Richard

ROU

2752

11

Radjabov, Teimour

AZE

2747

12

Vachier-Lagrave, Maxime

FRA

2747

13

Aronian, Levon

USA

2742

14

Mamedyarov, Shakhriyar

AZE

2740

15

Dominguez Perez, Leinier

USA

2739

16

Grischuk, Alexander

RUS

2736

17

Gukesh D

IND

2736

18

Yu, Yangyi

CHN

2734

19

Abdusattorov, Nodirbek

UZB

2732

20

Duda, Jan-Krzysztof

POL

2732

21

Le, Quang Liem

VIE

2728

22

Topalov, Veselin

BUL

2728

23

Wang, Hao

CHN

2722

24

Wei, Yi

CHN

2722

25

Vitiugov, Nikita

FID

2721

26

Dubov, Daniil

RUS

2716

27

Maghsoodloo, Parham

IRI

2716

28

Vidit, Santosh Gujrathi

IND

2712

29

Shankland, Sam

USA

2711

30

Vallejo Pons, Francisco

ESP

2706

31

Harikrishna, Pentala

IND

2704

32

Erigaisi Arjun

IND

2702

33

Artemiev, Vladislav

RUS

2699

34

Sjugirov, Sanan

RUS

2699

35

Niemann, Hans Moke

USA

2695

36

Van Foreest, Jorden

NED

2695

37

Bu, Xiangzhi

CHN

2694

38

Eljanov, Pavel

UKR

2694

39

Shevchenko, Kirill

ROU

2694

40

Tomashevsky, Evgeny

RUS

2694

41

Deac, Bogdan-Daniel

ROU

2693

42

Sargissian, Gabriel

ARM

2692

43

Xiong, Jeffery

USA

2692

44

Anton Guijarro, David

ESP

2691

45

Amin, Bassem

EGY

2690

46

Keymer, Vincent

GER

2690

47

Praggnanandhaa R

IND

2690

48

Sevian, Samuel

USA

2690

49

Navara, David

CZE

2689

50

Robson, Ray

USA

2689

51

Oparin, Grigoriy

USA

2687

52

Alekseenko, Kirill

FID

2686

53

Martirosyan, Haik M.

ARM

2685

54

Sarana, Alexey

SRB

2685

55

Tabatabaei, M. Amin

IRI

2683

56

Esipenko, Andrey

FID

2682

57

Nihal Sarin

IND

2681

58

Howell, David W L

ENG

2677

59

Fedoseev, Vladimir

FID

2676

60

Wojtaszek, Radoslaw

POL

2676

61

Grandelius, Nils

SWE

2674

62

Kovalenko, Igor

UKR

2674

63

Volokitin, Andrei

UKR

2674

64

Kasimdzhanov, Rustam

UZB

2673

65

Bacrot, Etienne

FRA

2672

66

Bluebaum, Matthias

GER

2672

67

Saric, Ivan

CRO

2670

68

Naiditsch, Arkadij

AZE

2669

69

Ni, Hua

CHN

2669

70

Gelfand, Boris

ISR

2668

71

Shirov, Alexei

ESP

2668

72

Donchenko, Alexander

GER

2667

73

Adams, Michael

ENG

2666

74

Ponomariov, Ruslan

UKR

2664

75

Cheparinov, Ivan

BUL

2663

76

Matlakov, Maxim

RUS

2662

77

Guseinov, Gadir

AZE

2661

78

Korobov, Anton

UKR

2661

79

Salem, A.R. Saleh

UAE

2661

80

Kamsky, Gata

USA

2659

81

Inarkiev, Ernesto

FID

2658

82

Li, Chao b

CHN

2658

83

Narayanan.S.L

IND

2657

84

Kryvoruchko, Yuriy

UKR

2656

85

Ivanchuk, Vasyl

UKR

2655

86

Moussard, Jules

FRA

2655

87

Nguyen, Thai Dai Van

CZE

2653

88

Santos Latasa, Jaime

ESP

2653

89

Liang, Awonder

USA

2651

90

Predke, Alexandr

SRB

2651

91

Melkumyan, Hrant

ARM

2650

92

Ma, Qun

CHN

2648

93

Malakhov, Vladimir

FID

2646

94

Najer, Evgeniy

FID

2646

95

Sindarov, Javokhir

UZB

2646

96

Tari, Aryan

NOR

2646

97

Gledura, Benjamin

HUN

2645

98

L'Ami, Erwin

NED

2645

99

Van Wely, Loek

NED

2644

100

Mamedov, Rauf

AZE

2642

Reserve players

1

Nyzhnyk, Illya

UKR

2641

2

Sargsyan, Shant

ARM

2640

3

Swiercz, Dariusz

USA

2640

4

Yilmaz, Mustafa

TUR

2639

5

Pichot, Alan

ARG

2638

6

Yakubboev, Nodirbek

UZB

2636

7

Cori, Jorge

PER

2636

8

Idani, Pouya

IRI

2633

9

Abasov, Nijat

AZE

2632

10

Nabaty, Tamir

ISR

2632

11

Fressinet, Laurent

FRA

2632

12

Ragger, Markus

AUT

2631

13

Hammer, Jon Ludvig

NOR

2630

14

Petrosyan, Manuel

ARM

2629

15

Meier, Georg

URU

2629

16

Lenic, Luka

SLO

2629

17

Gupta, Abhijeet

IND

2628

18

Kuzubov, Yuriy

UKR

2628

19

Karthikeyan, Murali

IND

2628

20

Hou, Yifan

CHN

2628

21

Papaioannou, Ioannis

GRE

2628

22

Aravindh, Chithambaram VR.

IND

2627

23

Durarbayli, Vasif

AZE

2627

24

Popov, Ivan

RUS

2627

25

Grigoryan, Karen H.

ARM

2626

26

Aryan Chopra

IND

2626

27

Iturrizaga Bonelli, Eduardo

ESP

2626

28

McShane, Luke J

ENG

2626

29

Areshchenko, Alexander

UKR

2625

30

Bjerre, Jonas Buhl

DEN

2624

Qualified players, FIDE Women's Grand Swiss
#

PLAYER

FED

FRL
June 23

1

Hou, Yifan

CHN

2628

2

Koneru, Humpy

IND

2567

3

Ju, Wenjun

CHN

2566

4

Goryachkina, Aleksandra

FID

2557

5

Lei, Tingjie

CHN

2554

6

Lagno, Kateryna

RUS

2552

7

Kosteniuk, Alexandra

SUI

2523

8

Tan, Zhongyi

CHN

2523

9

Muzychuk, Mariya

UKR

2515

10

Dronavalli, Harika

IND

2510

11

Dzagnidze, Nana

GEO

2510

12

Muzychuk, Anna

UKR

2509

13

Zhu, Jiner

CHN

2507

14

Abdumalik, Zhansaya

KAZ

2497

15

Shuvalova, Polina

RUS

2496

16

Khademalsharieh, Sarasadat

IRI

2488

17

Paehtz, Elisabeth

GER

2477

18

Kashlinskaya, Alina

POL

2474

19

Batsiashvili, Nino

GEO

2470

20

Khotenashvili, Bella

GEO

2470

21

Assaubayeva, Bibisara

KAZ

2469

22

Ioseliani, Nana

GEO

2462

23

Gunina, Valentina

FID

2457

24

Mammadzada, Gunay

AZE

2456

25

Cramling, Pia

SWE

2453

26

Efroimski, Marsel

ISR

2448

27

Wagner, Dinara

GER

2447

28

Arabidze, Meri

GEO

2446

29

Osmak, Yuliia

UKR

2444

30

Javakhishvili, Lela

GEO

2439

31

Krush, Irina

USA

2436

32

Saduakassova, Dinara

KAZ

2434

33

Ushenina, Anna

UKR

2434

34

Pogonina, Natalija

RUS

2432

35

Huang, Qian

CHN

2431

36

Vantika Agrawal

IND

2428

37

Bulmaga, Irina

ROU

2424

38

Sebag, Marie

FRA

2421

39

Savitha Shri B

IND

2418

40

Vaishali, Rameshbabu

IND

2416

Reserve players

1

Danielian, Elina

ARM

2416

2

Roebers, Eline

NED

2415

3

Galliamova, Alisa

RUS

2410

4

Salimova, Nurgyul

BUL

2409

5

Garifullina, Leya

FID

2408

6

Atalik, Ekaterina

TUR

2407

7

Stefanova, Antoaneta

BUL

2405

8

Girya, Olga

RUS

2402

9

Hoang, Thanh Trang

HUN

2402

10

Socko, Monika

POL

2401

11

Injac, Teodora

SRB

2401

12

Fataliyeva, Ulviyya

AZE

2401

13

Munguntuul, Batkhuyag

MGL

2397

14

Guichard, Pauline

FRA

2395

15

Maltsevskaya, Aleksandra

POL

2394
Photo: Mark Livshitz