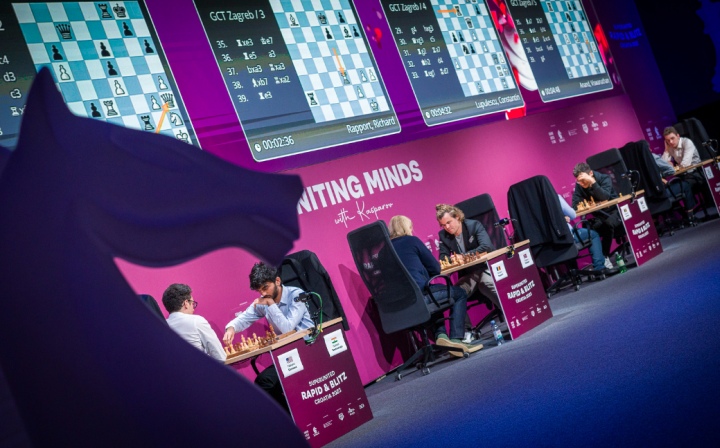 Fabiano Caruana and Ian Nepomniachtchi remained as co-leaders after the final day of rapid in the 2023 SuperUnited Rapid and Blitz, each with 12.0/18 points. The previous leader, Anand stumbled today and is two points behind, while World No. 1 Magnus Carlsen bounced back into form to take the clear third position going into two full days of blitz next.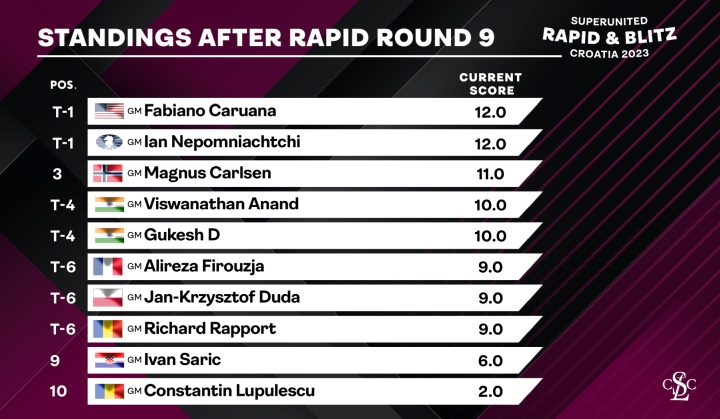 RAPID | ROUNDS 7-9
The day started off with Nepomniachtchi continuing his perfect streak from yesterday, picking up his fourth straight victory with an impressive win over Saric: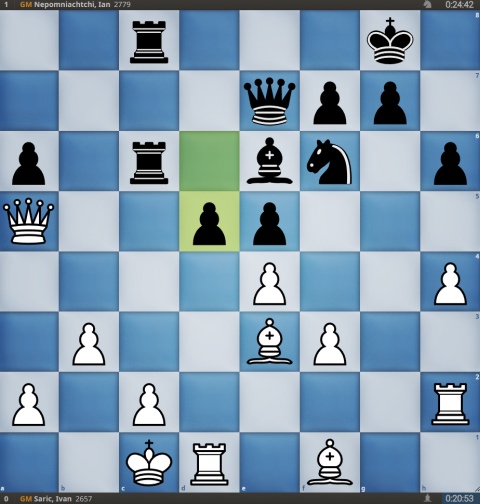 15…d5! was a powerful break by Ian based on the line 16.exd5 Nxd5 17.Rxd5 Bxd5 18.Qxd5 Qa3+ 19.Kb1 Rd6!-+ | 0-1, 35 moves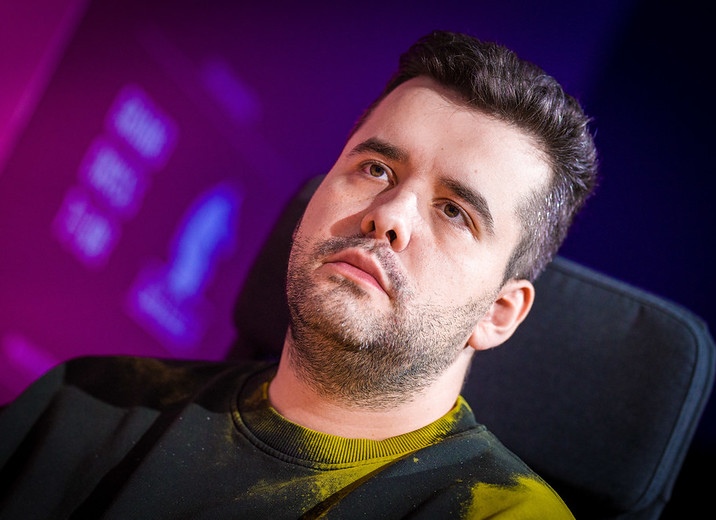 Nepo continued his excellent form from yesterday. | Photo courtesy of Grand Chess Tour, Lennart Ootes
Caruana kept pace, managing to turn the tables in a very difficult position against Gukesh: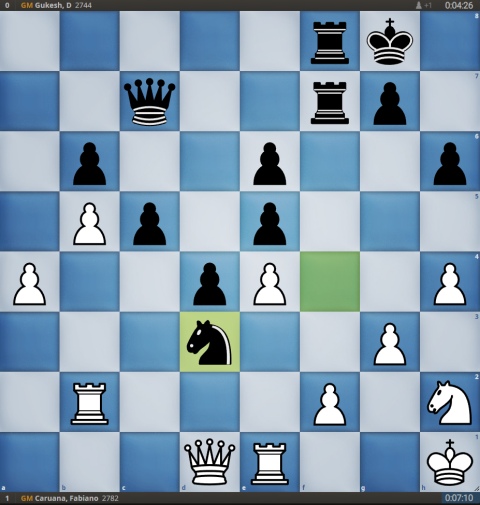 30…Nxd3!? was a strong sacrifice by Gukesh, winning multple pawns for the piece. But Caruana managed to survive and eventually overtook the advantage. | 1-0, 59 moves
This would set up a big showdown in Nepomniachtchi-Caruana, where Nepo was close to winning his fifth game in row but failed to capitalize on a huge advantage. The game was drawn, with both players again drawing in the next round to stay tied for the lead.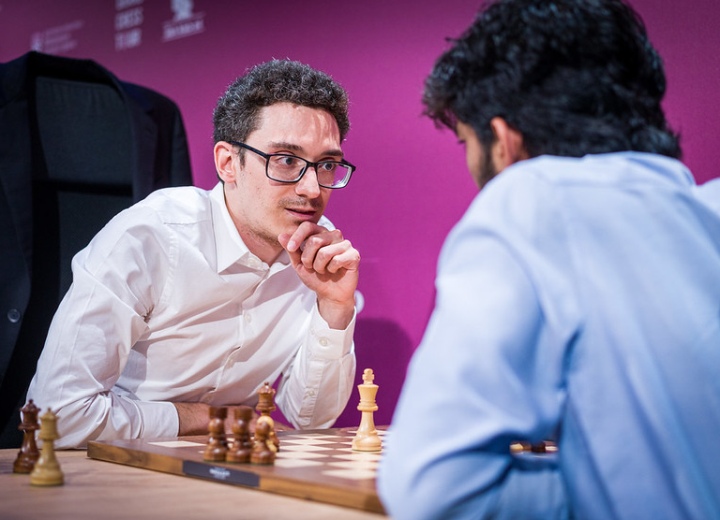 Caruana got a bit lucky in the first game, then escaped against Nepo as well. | Photo courtesy of Grand Chess Tour, Lennart Ootes
After a difficult day yesterday Carlsen fully turned things around today, with a draw against Rapport and wins over Duda and Lupulescu. In particular his win over Duda contained a phenomenal shot: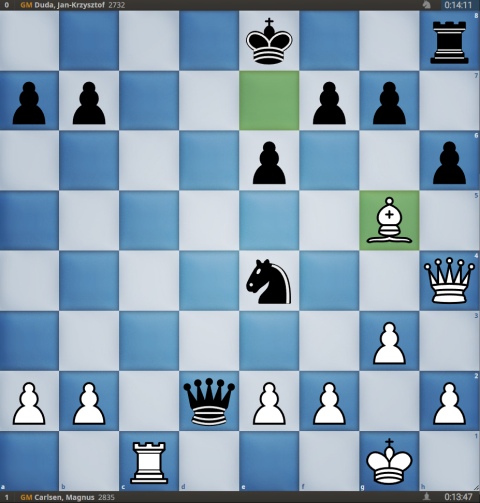 The stunning 20.Bg5!! by Magnus was perhaps the move of the tournament, winning the exchange after Rc8+ next.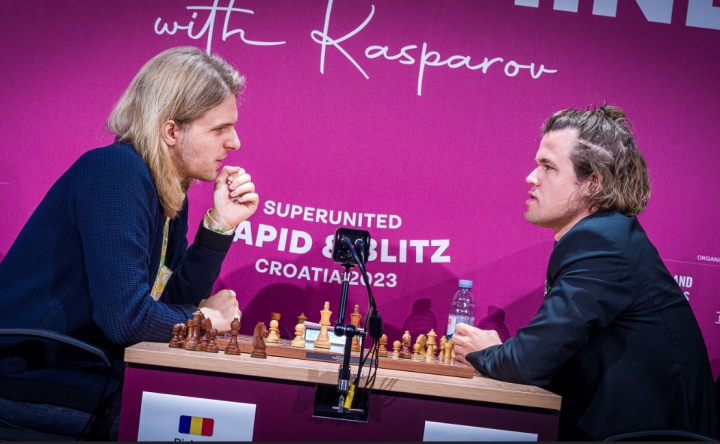 With eighteen games of blitz left Carlsen is very much in the hunt. | Photo courtesy of Grand Chess Tour, Lennart Ootes
Losing some steam was Anand, who managed draws with Duda and Nepomniachtchi but would lose to Gukesh to only score 2.0/6 for the day: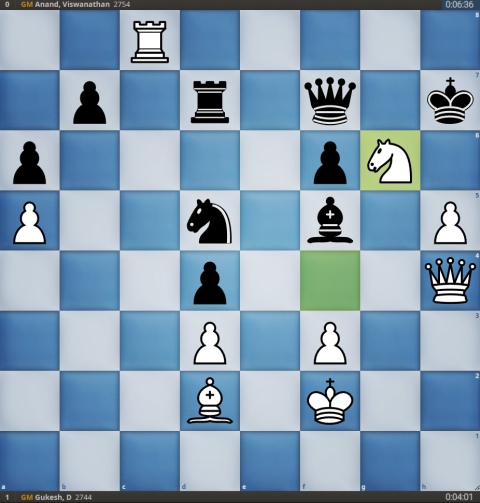 40.Ng6! was the final move, leading to a mating attack after 40...Bxg6 41.hxg6++-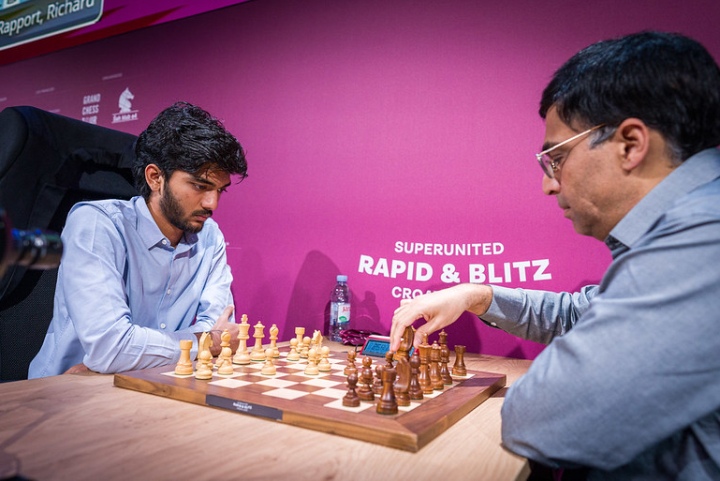 This was Gukesh's first ever win over the legendary Anand. | Photo courtesy of Grand Chess Tour, Lennart Ootes
With two days of blitz now coming up, Nepomniachtchi and Caruana remain at the top with 12.0/18, while Carlsen sits in clear third with 11.0/18. Also not far are Anand and Gukesh, who are just two points behind with 10.0/18.
The 2023 SuperUnited Rapid & Blitz continues Saturday, July 8, with tournament action live starting at 8:05 AM CT with Grandmaster commentators Yasser Seirawan, Evgenij Miroshnichenko, Cristian Chirila and International Master Nazi Paikidze on grandchesstour.org and on the Saint Louis Chess Club's YouTube and Twitch.tv channels.
Text: IM Kostya Kavutskiy
---
Further Information:

Web: GrandChessTour.org | Twitter: @GrandChessTour
Instagram: @GrandChessTour | Facebook: @GrandChessTour
Venue:
The Westin Zagreb, Zagreb, Croatia July 5 - 9, 2023
Press Contact:
press@grandchesstour.org
Livestream:
GrandChessTour.org
Photos:
Courtesy of Grand Chess Tour and Spectrum Studios
Credits available on Flickr.