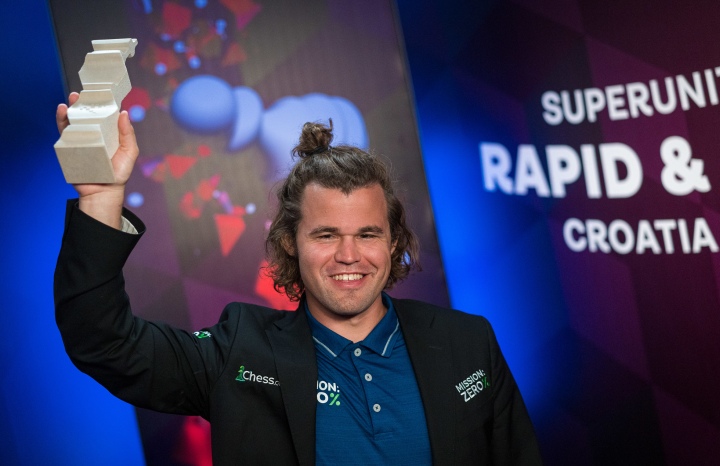 World No. 1 Magnus Carlsen capped off an incredible blitz performance to win the 2023 SuperUnited Rapid and Blitz with a score of 26.0/36, taking home a first place prize of $40,000.
Finishing in second place was Nepomniachtchi (22.5), with Caruana (21.5) third, Firouzja (21) fourth, and Gukesh (19.5) earning clear fifth.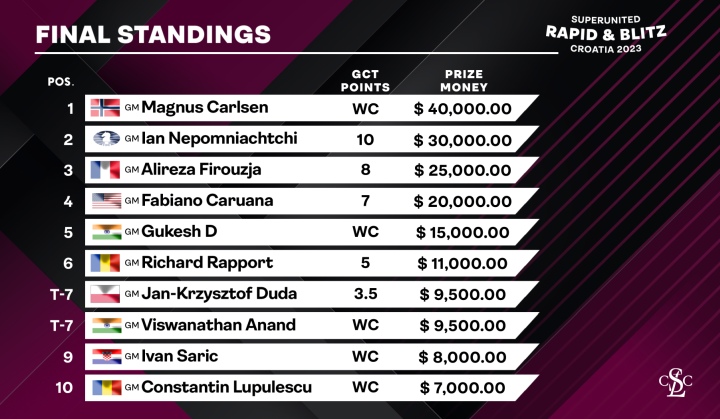 BLITZ | ROUNDS 10-18
Carlsen's perfect streak from yesterday was snapped in the first round of the day, as he failed to convert a slightly better endgame against Caruana. Magnus then drew with Duda before uncorking four straight wins against Gukesh, Saric, Anand, and Nepomniachtchi to clinch tournament victory.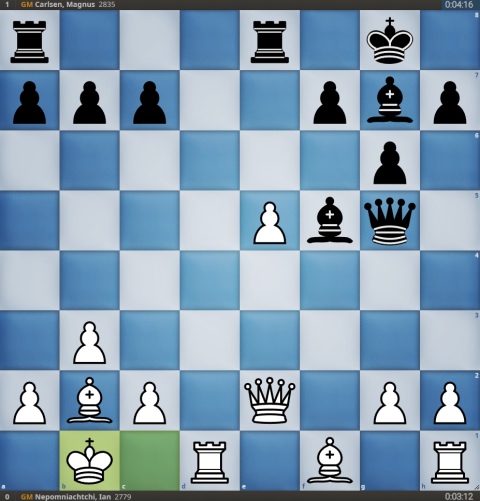 Nepomniachtchi-Carlsen: 16...Bxe5! snagged a big pawn for Carlsen, as 17.Rxe5 Rxe5 18.Qxe5 would lose White's queen after 18...Bxc2+! | 0-1, 20 moves
Carlsen would go on to lose to Firouzja and Rapport before closing things out with a win over Lupulescu, ending his tournament on a high note. Magnus's final result is just a point short of his own 27.0/36 record score in the 2019 Tata Steel Rapid & Blitz.
Fighting for second throughout the day were Nepomniachtchi and Caruana, with Nepo managing to take an early lead and keep his standing until the very end.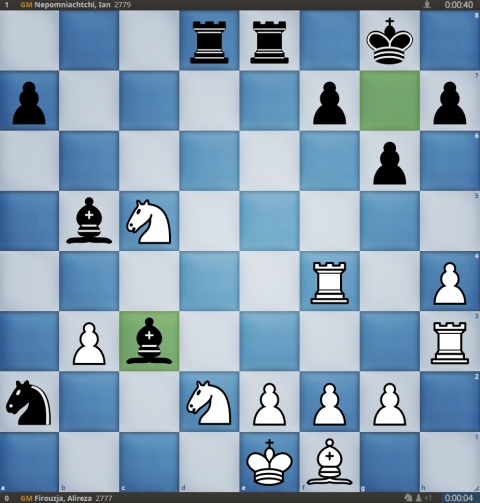 Firouzja-Nepomniachtchi: After 25…Bc3, Black was soon winning a decisive amount of material. | 0-1, 55 moves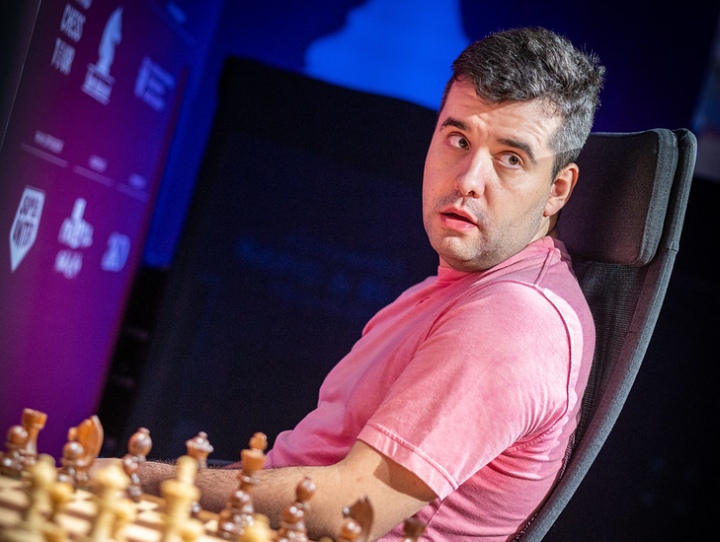 While first place was out of reach, Nepomniachtchi managed to maintain second. | Photo courtesy of Grand Chess Tour, Lennart Ootes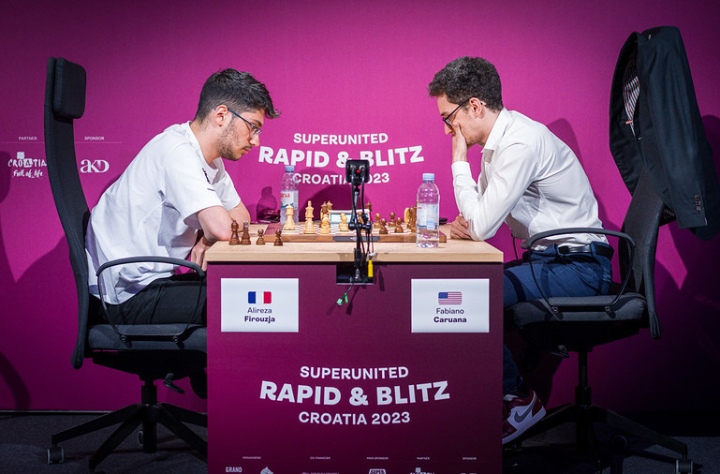 A solid third place for Caruana, who now has a significant lead in the overall Grand Chess Tour. | Photo courtesy of Grand Chess Tour, Lennart Ootes
Scoring the most in today's round-robin were Firouzja and Gukesh, who each picked up 6.5/9 points for the day. Firouzja in particular caught fire in the second half of the event, as he closed things out with five straight wins over Gukesh, Anand, Carlsen, Lupulescu, and Duda: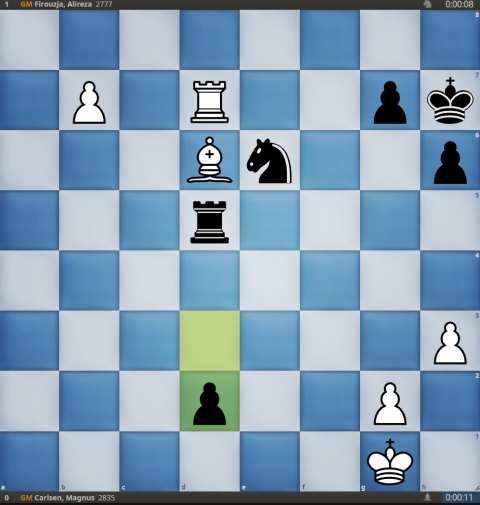 Carlsen-Firouzja: After 45…d2! both sides would make a new queen, but the pin along the d-file was difficult for White to resolve. | 0-1, 96 moves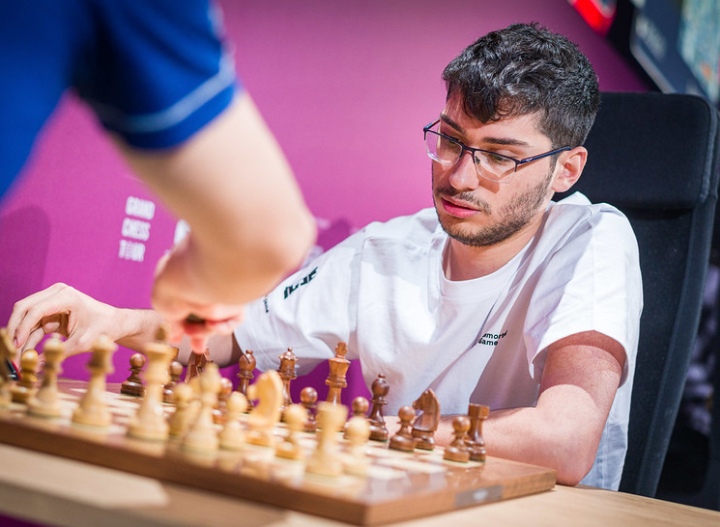 Firouzja scored 6.5/9 on both days of the blitz, finishing fourth overall. | Photo courtesy of Grand Chess Tour, Lennart Ootes
The young wildcard Gukesh took a very respectable fifth place and $15,000 for his effort.
With just two events left in the 2023 Grand Chess Tour, the Saint Louis Rapid and Blitz followed by the Sinquefield Cup in November, Caruana currently leads the GCT standings with 20 points.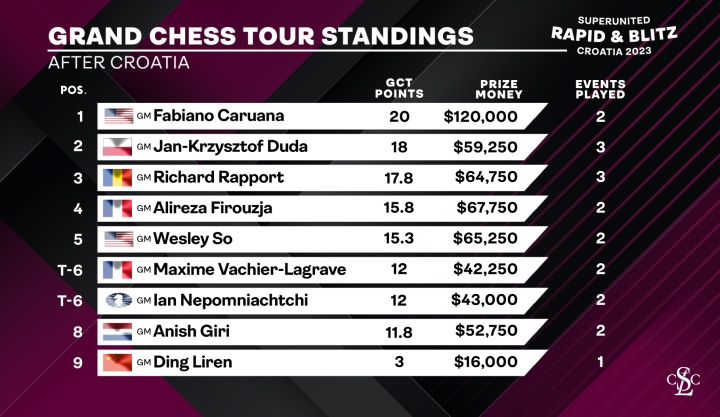 The 2023 Grand Chess Tour continues next with the Saint Louis Rapid & Blitz, which will take place November 12-19 in Saint Louis, Missouri. Tune in to live coverage on grandchesstour.org and on the Saint Louis Chess Club's YouTube and Twitch.tv channels.
Text: IM Kostya Kavutskiy
---
Further Information:
Web: GrandChessTour.org | Twitter: @GrandChessTour
Instagram: @GrandChessTour | Facebook: @GrandChessTour
Venue:
The Westin Zagreb, Zagreb, Croatia July 5 - 9, 2023
Press Contact:
press@grandchesstour.org
Livestream:
GrandChessTour.org
Photos:
Courtesy of Grand Chess Tour and Spectrum Studios
Credits available on Flickr.